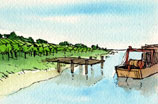 "What's in a name?" asked William Shakespeare. In the case of one Virginia AVA, the name has meant plenty … of controversy. Two names were proposed for the Northern Neck of George Washington Birthplace appellation before it gained AVA status in 1987. The final decision was to combine both names, but the name disappeared from labels, since consumers found it too long and confusing. The appellation encompasses the most northern of Virginia's peninsulas or 'necks' jutting into Chesapeake Bay. It hosts two wineries - with another near completion - and more than a dozen vineyards. Bordered on the east by Chesapeake Bay, the region is flanked by the Potomac and Rappahannock rivers north and south, and in the west by the King George /Stafford County border. With only 10-20 miles separating the rivers at any point, the climactic key is proximity to water, which means less temperature variation, a milder winter and more frost-free days than most of mainland Virginia. Both vinefera and French-American hybrids are grown, with Chardonnay and red Bordeaux varietals enjoying much of the spotlight.

WAWGG Banquet Explores Washington State Terrior
By
Roger King
February 2, 2014
The multiple appellations of Washington will be tasted in a unique banquet dinner at this years Washington Association of Wine Grape Growers Annual Meeting and Trade Show. Nuances of that regional diversity have been paired with the meal being prepared by Chef Dan Carr.  [>] continue

Taking Focus on Appellation
By
Clark Smith
December 9, 2013

Whitehall Lane Winery, A 20 Year Story of Vineyards
By
Roger King
July 15, 2013

Embracing Virginia's Terroir
By
Richard Leahy
June 2, 2013

Shake Ridge Ranch - Gem of the Sierra
By
Roger King
May 16, 2013

Tannat, Vibrant Across the America's
By
Barbara Trigg
May 6, 2013

Welcome Middleburg Virginia AVA
By
Roger King
January 4, 2013

Humboldt County: Is Too Much Terroir Possible?
By
Clark Smith
October 14, 2012