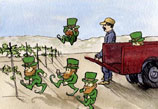 Being a winemaker in South Carolina is all about hard work and dedication, not to mention a fair dose of luck. The climate is the major obstacle. Grapevines must endure 100-degree summer days in a region where summers range from being too wet in some years, to too dry in others. Vines are grown in high-acid soils and pruned to provide shade from the hot sun of this southern state. It's often necessary to harvest grapes early to maintain acidity. Even when the crop is safely in the fermenter, vintners must keep their fingers crossed that an autumn hurricane doesn't roar through and destroy the land for next year's harvest. There are fewer than ten wineries currently operating in South Carolina. The search goes on for just the right varieties for this unique terroir, with native Muscadines, viniferas, hybrids, and everything in between, being tested. It's a difficult struggle, but for South Carolina wineries it's a labor of love.

Whitehall Lane Winery, A 20 Year Story of Vineyards
By
Roger King
July 15, 2013
From initial vineyard plantings on Whitehall Lane in the 1800's the evolution to today's Whitehall Lane Winery has been a story of vineyard. The first 25 acre vineyard property is the winery site, yet the definition of multiple Napa Valley sub appellations is formed in a wide ranging set of vineyards all showing unique profile and character in their wines.  [>] continue
[>] see all South Carolina features (1)

Embracing Virginia's Terroir
By
Richard Leahy
June 2, 2013

Shake Ridge Ranch - Gem of the Sierra
By
Roger King
May 16, 2013

Tannat, Vibrant Across the America's
By
Barbara Trigg
May 6, 2013

Welcome Middleburg Virginia AVA
By
Roger King
January 4, 2013

Humboldt County: Is Too Much Terroir Possible?
By
Clark Smith
October 14, 2012

Historic Buena Vista Winery Restored
By
Barbara Trigg
September 18, 2012