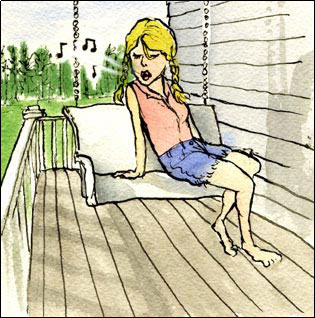 Melody
You poor ole Ma, Pinot Blanc, always seemed to play second fiddle to Miss Chardonnay. So it shouldn't come as a shock that even in New York you're overshadowed by Miss Cayuga. No matter, you're much too delicate and pretty for the competitive 'Empire State'. You seem more at home singing flowery tunes in the relaxed enviroment of the Mid-West.

Appellations Growing Melody Grapes
Appellations producing the most Melody wines:
Melody

Melody is a recent hybrid grape developed by the Geneva Research Station in New York State, used to produce light bodied white wines. Melody has yet to take any significant acreage away from the Cayuga in New York, but its cold hardiness and pleasant fruit and floral character have made it successful in the American Mid-West. Melody is a cross of Seyval Blanc with GW5 (Pinot Blanc x Ontario).