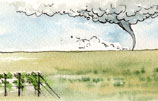 In a state where tornadoes and hail storms are legitimate vineyard management risks, it is testimony to fortitude that Kansas has wineries at all. Kansas summers can be stiflingly hot, with afternoon temperatures often hovering around 100 F. If that isn't enough, all seasons can feature rapid climactic changes that sweep down the plains. Kansas was a significant player in America's wine trade in the late 19th century. But the industry was leveled in 1880 by state-imposed prohibition. It wasn't until the late 1980s, when a farm winery law was passed, that wineries returned to the state. The fledgling industry hosts eight wineries, with less than 100 acres under vine. Grape production is focused on French-American hybrids, such as Marechal Foch, and native vines which are able to withstand the climatic challenges. Alas, it may be a little premature to change the lyrics..."as grapey as Kansas in August...high as a kite on the Fourth of July...lalala!"

WAWGG Banquet Explores Washington State Terrior
By
Roger King
February 2, 2014
The multiple appellations of Washington will be tasted in a unique banquet dinner at this years Washington Association of Wine Grape Growers Annual Meeting and Trade Show. Nuances of that regional diversity have been paired with the meal being prepared by Chef Dan Carr.  [>] continue

Taking Focus on Appellation
By
Clark Smith
December 9, 2013

Whitehall Lane Winery, A 20 Year Story of Vineyards
By
Roger King
July 15, 2013

Embracing Virginia's Terroir
By
Richard Leahy
June 2, 2013

Shake Ridge Ranch - Gem of the Sierra
By
Roger King
May 16, 2013

Tannat, Vibrant Across the America's
By
Barbara Trigg
May 6, 2013

Welcome Middleburg Virginia AVA
By
Roger King
January 4, 2013

Humboldt County: Is Too Much Terroir Possible?
By
Clark Smith
October 14, 2012