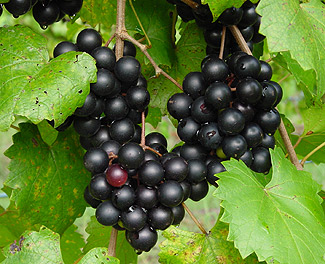 South Carolina (State Appellation)
A (Not-So-Sweet) Story of Success
with South Carolina Muscadine
Irvin-House Vineyards on Wadmalaw Island dries out the scuppernong for the restaurant trade, enters the spirits market with Firefly Muscadine vodka, and touts the health benefits of both.
by Gregory McCluney
July 30, 2008
---

ith a marketing slogan
of "Live Oak Wine" and labels such as Palmetto, Mullet Hall Red, Live Oak Reserve, Magnolia and Tara Gold, a wine drinker might suspect some form of Scuppernong (
Muscadine
) as the primary grape. But when you have a vineyard and winery on subtropical Wadmalaw Island, South Carolina, it's the
only
grape.