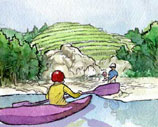 Dos Rios is a sleepy community, located in the remote wilderness of northern Mendocino County. The area, located at the confluence of the Eel River and Middle Fork of the Eel River is known more for its white water rapids than its white wine. In fact, the lone winery in the AVA, Vin de Tevis, has only six acres under vine, almost exclusively planted to red varietals such as Cabernet Franc, Cabernet Sauvignon, Merlot and Zinfandel.

One might instinctively presume that the owners of Vin de Tevis were behind the creation of this new AVA, in order to increase market awareness of their small winery. However, the Dos Rios appellation is actually the brainchild of Ralph Carter, a dedicated and passionate terroirist, who also penned the petition for the equally secluded Covelo AVA. Carter's petition offered enough evidence to convince the TTB to grant a new AVA for Dos Rios. And a closer study of his work reveals that despite the lack of vineyard acreage in the region, the climate and soil conditions of Dos Rios are sufficiently different from other Mendocino County growing areas. Soils here are infertile, slopes are steep and the climate is a combination of maritime and continental. Carter, in his petition, describes it as a "transitional" climate, as the region would be quite warm if not for cool Pacific winds that flow through the Coastal Range via the Eel River and Middle Fork of the Eel River.

It is unlikely that this AVA will ever have the caché or attention enjoyed by most other California appellations, but for those seeking out wines with unique terroir character, it may well be worth the drive or river boat ride up to Dos Rios.

Bi-State Upper Hiwassee Highlands an AVA
By
Roger King
August 6, 2014
In the southern Blue Ridge Mountains of North Carolina and Georgia vineyards are small and few, yet the establishment of the Upper Hiwassee Highlands could bring much more.  [>] continue

The Mysterious Ralph Carter: AVA Petitioner-at-Large
By
Mark DeWolf
August 16, 2006
[>] see all Dos Rios features (1)

Remote Manton Valley New California AVA
By
Roger King
July 31, 2014

WAWGG Banquet Explores Washington State Terrior
By
Roger King
February 2, 2014

Taking Focus on Appellation
By
Clark Smith
December 9, 2013

A Day in the (Rutherford) Dust
By
Barbara Trigg
August 2, 2013

Whitehall Lane Winery, A 20 Year Story of Vineyards
By
Roger King
July 15, 2013

Embracing Virginia's Terroir
By
Richard Leahy
June 2, 2013