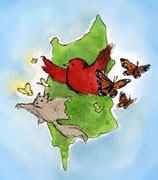 Pelee Island is Canada's southernmost point, situated 15 miles off Lake Erie's north shore. Winemaking began on the island in 1866 when Canada's first estate winery, Vin Villa, was established, choosing Pelee Island as its home. Today, the island has just one winery, but there are over 500 acres of vines. This Designated Viticultural Area rests on the same latitude as some of the world's most recognized wine regions, including Northern California, Central Italy and Southern France. The island's soils are mostly sandy loam and clay, atop limestone bedrock, similar to what you would find on the Ontario mainland. Growers here take full advantage of the region's long growing season, extended by the southerly position and moderating lake effect. Over the course of this lengthy growing season, the island's vineyards enjoy the greatest accumulation of heat units of any wine region in Canada, yielding fully ripened fruit for Pelee Island winemakers.

WAWGG Banquet Explores Washington State Terrior
By
Roger King
February 2, 2014
The multiple appellations of Washington will be tasted in a unique banquet dinner at this years Washington Association of Wine Grape Growers Annual Meeting and Trade Show. Nuances of that regional diversity have been paired with the meal being prepared by Chef Dan Carr.  [>] continue

Taking Focus on Appellation
By
Clark Smith
December 9, 2013

Embracing Virginia's Terroir
By
Richard Leahy
June 2, 2013

Shake Ridge Ranch - Gem of the Sierra
By
Roger King
May 16, 2013

Tannat, Vibrant Across the America's
By
Barbara Trigg
May 6, 2013

Welcome Middleburg Virginia AVA
By
Roger King
January 4, 2013

Humboldt County: Is Too Much Terroir Possible?
By
Clark Smith
October 14, 2012

Historic Buena Vista Winery Restored
By
Barbara Trigg
September 18, 2012