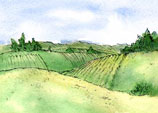 This appellation is immediately east of New York State's Hudson River Region AVA, and includes all of Litchfield and parts of Fairfield, New Haven and Hartford counties. Separated from the Connecticut coast by coastal plains, the Western Highlands is the state's coolest zone. Without the moderating effects of Long Island Sound, this appellation has a mean average temperature of just 46 F. The growing season is relatively short, running roughly from mid-May to late September. The rolling hills and small mountains of northwestern Connecticut feature glacial schist and granite soils. Cool-climate vinifera and French hybrids are successful here, including Chardonnay, Pinot Noir, Cabernet Franc, Seyval, Vidal, Cayuga, Foch, Leon Millot, and Aurora.

WAWGG Banquet Explores Washington State Terrior
By
Roger King
February 2, 2014
The multiple appellations of Washington will be tasted in a unique banquet dinner at this years Washington Association of Wine Grape Growers Annual Meeting and Trade Show. Nuances of that regional diversity have been paired with the meal being prepared by Chef Dan Carr.  [>] continue

Taking Focus on Appellation
By
Clark Smith
December 9, 2013

Whitehall Lane Winery, A 20 Year Story of Vineyards
By
Roger King
July 15, 2013

Embracing Virginia's Terroir
By
Richard Leahy
June 2, 2013

Shake Ridge Ranch - Gem of the Sierra
By
Roger King
May 16, 2013

Tannat, Vibrant Across the America's
By
Barbara Trigg
May 6, 2013

Welcome Middleburg Virginia AVA
By
Roger King
January 4, 2013

Humboldt County: Is Too Much Terroir Possible?
By
Clark Smith
October 14, 2012