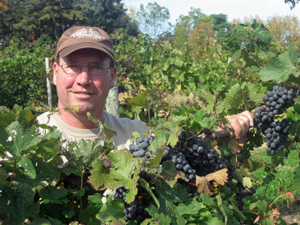 No Citrus But Loads of Intriguing Wines at Lemon Creek Winery
by Eleanor & Ray Heald
March 2, 2009
---
Kerner, Shiraz and Cabernet Sauvignon Ice Wine?
I
f we play
"Where are You in Wine World?"
, would you guess a winery in the Lake Michigan Shore AVA? The name Lemon Creek Winery may suggest a citrus fruit orchard rather than 140 acres of wine grapes, so let's settle the name score up front.
The Lemon Family came to Berrien County, Mich., in 1834 and established a farm on an eponymous road. Benjamin Lemon operated a saw mill on a creek near Berrien Springs, Mich., which became known as Lemon Creek, the name adopted by Robert Lemon when he established a winery on the property in 1984. Today, his sons Jeff, Tim and Bob are partners in that winery and vineyard operation.
Lake Michigan moderates temperatures in the Lake Michigan Shore AVA, located in southwest Michigan. That geological advantage, together with the rolling silty clay-loam and sandy loam hills, allows a diverse selection of both hybrids and
vinifera
grape varieties to flourish, among them Lemon Creek's
Cabernet Sauvignon
, the first commercial planting of the
vinifera
in Michigan in 1990.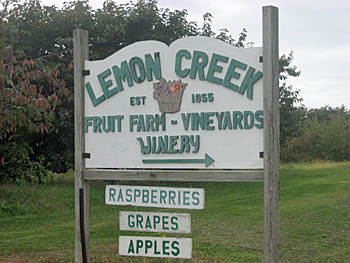 Growth from initial plantings of
Vidal
in the early 1980s to the current 140 acres of both hybrids and
vinifera
(17 varieties in all) was spurred on by Lemon Creek's ability to sell grapes to other wineries in the Lake Michigan Shore (LMS) AVA. Today, they use only one third of the production for the family winery.
"Besides those planted at Lemon Creek in 1984," winemaker Jeff Lemon recalls, "there were a number of acres of Vidal that came into production. We were the only growers who planted with a contract with both St. Julian Winery and Tabor Hill Winery (in the LMS AVA). In 1984, there was so much Vidal on the market in Berrien County that the price per ton dropped from $550 to $200 and we were forced to drop our price to $200 per ton. We started the winery to pay ourselves what the grapes were worth." Because Lemon Creek already had a thriving u-pick market for peaches, apples, and other fruits, it drove wine sales for the first several years. People came to buy fruit and they were asked if they'd like to try some Lemon Creek wines and they did."
Vinifera Comes to Michigan
It
soon became apparent that the LMS AVA was well suited to
vinifera
varieties.
Chardonnay
was planted first and the initial 10 acres will be pulled shortly and replaced with red varieties. LMS has now proven its soil profiles, rolling hills and warmer climate to be an ideal place to grow even late-ripening red
vinifera
, such as Cabernet Sauvignon.
In the early years, not all the wines, particularly reds, were made in the Lemon Creek facility. "We were looking for quality control that displayed the characteristics of the fruit we grew in the appellation," says Lemon. "Thus in 1998, we brought all winemaking in-house." Yet, Lemon cites another problem when red
vinifera
, including Pinot Noir and Cabernet Sauvignon, were first planted in the LMS AVA. There was a lack of knowledge about how to prune and grow these varieties in a colder climate, so the early plantings died. Consequently, the thought was that they could not be grown in LMS. "Yes," Lemon continues, "there were some tough winters and spring frost issues, but if the viticultural practices were what they are today, the vines would not have died. Early false impressions held back the acceleration of planting red
vinifera
in the LMS AVA."
Varietals Are the Spice of Life in Lake Michigan Shore AVA
A
mong white
vinifera
varieties in the winery's 6,000-case production, Chardonnay leads the list. "But," Lemon notes, "this is not the best white to be grown in LMS or Michigan as a whole. It doesn't ever ripen to its full flavor potential and it's the same for Riesling in many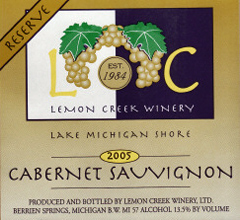 vineyards. If it's grown at a ton or two tons per acre, it will achieve physiological ripeness, but that crop load won't make tractor payments. Additionally, in 2007, I could not sell all the Chardonnay that I had for sale."
Cabernet Sauvignon is the number one red followed by
Merlot
and
Cabernet Franc
. Cabernet Sauvignon is in demand because wineries in Michigan's
Old Mission Peninsula
and
Leelanau Peninsula
AVAs can't grow and ripen it.
Although the varieties cited so far are grown in many wine regions around the world, Kerner, the most unique white grown at Lemon Creek, requires a palate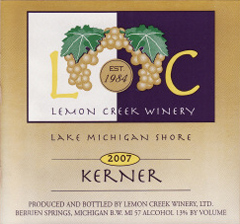 stroll down the less-traveled wine route. In the late 1960s,
Kerner
, a cross between the red variety Trollinger and Riesling, proved successful. It is widely planted in Germany's Rheinhessen and Rheinpfalz appellations. In high-toned acidity, floral aromas and ageability, Kerner struts its Riesling characteristics.
APPELLATION AMERICA
'S grape wine index references Kerner as "Your mother taught you grace, and your father a carefree, instant gratification attitude. Perhaps you have accepted that no matter how popular you become in Germany, you will never rule the Rhineland like Riesling. However, you seem quite content hanging out in the cool and hip cafes of British Columbia where leafy aromas are the norm." OK, but now you can add the LMS AVA style as showcasing not only Riesling-like qualities, but also ripe apple, Bartlett pear, Crenshaw melon and white peach - all without leafiness.
How did it come to be planted? Lemon explains that Kerner plants became available, sort of "under the table," from Germany through Canada. A total of 2,000 plants came to a Michigan grower who really wanted only 1,000. Lemon Creek bought the other half. Due to poor viticultural practices, the grower's 1,000 vines died. Lemon's did not and he plans to propagate more. Together with Lemon Creek
Gewurztraminer
, Kerner brings unique white wine tastes to a growing number of winery visitors, 90 percent of whom have Illinois license plates.
LMS AVA has always touted its proximity to Lake Michigan as a positive for grape growing. "Yet on the other hand," Lemon remarks, "it hurts just as much, too, because we get more cloudy days than east of our location in the state. We do get warmer temperatures. Typically, our growing degree days end up in the ballpark of 3,000 and Leelanau Peninsula AVA vineyards in the northwest of the state end up with an average of 2,300. LMS is right up