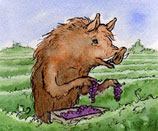 Winemaking expertise arrived in Arkansas with the first European settlers, German, Swiss and Italian immigrants. They quickly realized that the Boston Mountains to the north protected much of the growing area from winter cold, and the moderate elevation of the hills put them above the frost line. These are ideal conditions for growing grapes. Prohibition hit this area hard, but the wine industry's saving grace was that growers grafted table grapes onto the roots, instead of ripping out vineyards, leaving them prepared for the coming wine revolution. Although today over half of the Arkansas counties remain dry, the state has three AVAs (one shared with Missouri) which are moving forward to develop their wine industry. There are six dedicated wineries that are experimenting with varieties such as Cynthiana, Vidal Blanc and Seyval Blanc, as well as continuing to work with the Cabernet, Merlot, and Chardonnay staples.

WAWGG Banquet Explores Washington State Terrior
By
Roger King
February 2, 2014
The multiple appellations of Washington will be tasted in a unique banquet dinner at this years Washington Association of Wine Grape Growers Annual Meeting and Trade Show. Nuances of that regional diversity have been paired with the meal being prepared by Chef Dan Carr.  [>] continue

Taking Focus on Appellation
By
Clark Smith
December 9, 2013

Whitehall Lane Winery, A 20 Year Story of Vineyards
By
Roger King
July 15, 2013

Embracing Virginia's Terroir
By
Richard Leahy
June 2, 2013

Shake Ridge Ranch - Gem of the Sierra
By
Roger King
May 16, 2013

Tannat, Vibrant Across the America's
By
Barbara Trigg
May 6, 2013

Welcome Middleburg Virginia AVA
By
Roger King
January 4, 2013

Humboldt County: Is Too Much Terroir Possible?
By
Clark Smith
October 14, 2012