---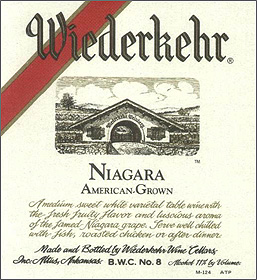 Wiederkehr Wine Cellars
Niagara
(Arkansas)
Some amateur winemakers go to the grocery store, buy a few cans of frozen white grape juice, and try to make a fine wine out of it. They do this because of thrift and year-round availability. Frozen, concentrated white grape juice is typically from the Niagara grape, and the results are typically bad to mediocre wine.

Wiederkehr Wine Cellars (locally pronounced "Whitaker") makes a fine Niagara varietal wine without denying thrift. It is an interesting wine with aromas that do not necessarily forecast taste. A muted labrusca "foxy" bouquet is evident, along with citrus tones. The labrusca signature grapey flavor is teamed with a steely minerality, settling the wine into a smooth earthiness. The finish does not linger, but such crispness with just 11% alcohol is welcome when friends come over for a porch party on a sultry summer evening.

Amateur winemakers around North-West Arkansas can go to Wiederkehr and buy fresh Niagara grapes during harvest. The berries are green to yellow-green and taste great straight off the bunch, popped into the mouth. They can try their hand at vintning Niagara grapes, but why bother when a 750 mL bottle sells for just $5.75, a magnum for $10.35, and a 3 L bottle (with a built-in handle) for just over $17? Buy a lot and cool the bottles in a creek or a washtub filled with ice.
Reviewed August 29, 2007 by Tim Pingelton.
---
Winery: Wiederkehr Wine Cellars
Vintage:
Wine: Niagara
Appellation: Arkansas
Grape: Niagara
Price: 750ml $5.65, 1.5L $9.80



Tim Pingelton

As a professional winemaker and writer, Tim Pingelton understands how growing conditions and vinification techniques affect the grapes as they become wine. As an Appellation America correspondent, he realizes that a balance must be struck between standards in flux and standards fixed in time. Tim continually explores the areas about which he writes to personally relate how their wines do or do not embody appellation-specific characteristics.