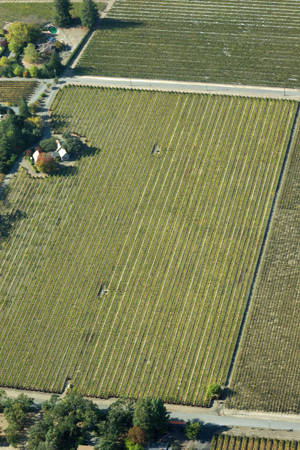 Rutherford ~ Napa Valley (AVA)
Legendary Vineyard Bella Oaks Sold
Home to the grapes in world class Napa Valley Cabernet Sauvignon (such as Heitz Wine Cellars Martha's Vineyard Cabernet), Bella Oaks vineyard moves to the TLC of the Gargiulo family.
by Alan Goldfarb
March 3, 2009
---

arney Rhodes used to call it "Belly" Oaks
, referring to the great 17-acre Cabernet Sauvignon vineyard officially named Bella Oaks, and owned with his wife Belle. Barney, one of the wonderful gentlemen of California wine, died last April while Belle, one of the genuine supporters of wine and food, preceded him by 14 months.
APPELLATION AMERICA
has learned that last December - although it is only now coming to public light - the Bella Oaks Vineyard, located in Napa Valley's
Rutherford
AVA, was purchased by Barney's cousin Valerie Gargiulo and her family for nearly $7 million.
The vineyard, which sits close to the Rutherford bench west of Highway 29, has been harvested exclusively since 1976 by
Heitz Wine Cellars
. According to Gargiulo, who owns the
Gargiulo Vineyards
winery in
Oakville
with her husband Jeff, Heitz will continue to have exclusive rights to the fruit, in accordance with its long-term evergreen contract.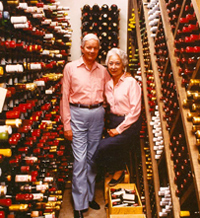 However, said Gargiulo, "I'm sure someday, we'd love to work something out (with Heitz) to be able to use some of the fruit." Gargiulo bought the vineyard with her daughter April and her husband Mitch Lowe for $6,985,000.
Currently though, there are no plans to use the vineyard for Gargiulo, which produces about 6,000 cases a year from Oakville vineyards on Money Road and the home estate on the Oakville Crossroad. However, Gargiulo stated that at some point the contract, "can be amended but we hope to continue (with Heitz)."
Valerie Gargiulo has an emotional connection to the vineyard. Her mother was a first cousin of Barney Rhodes, who died at age 88. Gargiulo said that "Barney and Belle had always wanted the vineyard to stay in the family. It was something we had talked about for years. … Heitz will still be producing (wine from Bella Oaks). She added, "Barney and Belle were always proud of the relationship with Heitz and we hope to continue that relationship."
Kathleen Heitz Myers, the president of Heitz Wine Cellars, reiterated those sentiments and said she hopes her family will continue to make Cabernet from Bella Oaks, and work with the Gargiulos.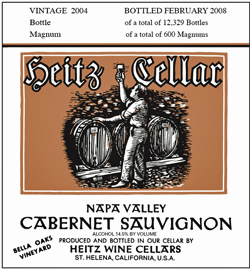 "We've been buying fruit there since 1976, and we're hoping to continue the relationship with the Gargiulos, as extended family members of the Rhodes," she said. "We're working through the transition and seeing how we work together. Neither one of us is at the point where we want to predict the future."
The Rhodes also owned the Oakville vineyard which became known as Martha's Vineyard after they sold it in 1963. It became known as perhaps California's most storied vineyard, especially after Joe Heitz made the iconic 1974 Heitz Martha's Vineyard
Cabernet Sauvignon
. The fruit from there has always been purchased by Heitz for its signature wine.
As for Bella Oaks, Heitz Myers described it as "a great vineyard. It's very distinctive. It was one of the first in the Rutherford area. It has an elegant style of Cabernet, with a very strong backbone. It's not as fleshy as some of the newer styles and ages extremely well. It has wonderful sweet nuances as it gets older."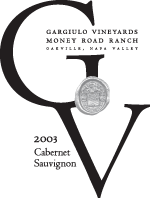 Valerie Gargiulo was asked if there will be any changes made to the vineyard. "We're constantly trying to improve the farming methods," said Gargiulo, whose company has been managing the vineyard on the Rhodes' behalf for the last several years. It has already installed a new trellis system. "We've been working on making some improvements as we learn about the vineyard. The location and the soil are well worth it."
Gargiulo added, "I'm very emotionally tied to the property. Since Barney had a stroke eight or nine years ago, I had the privilege to help take care of him the last few years. We've been very attached to Belle and Barney and we feel really good about carrying on their legacy. They've been so gracious and kind. They were all about sharing their knowledge. … I want people to remember them."
---
Photos courtesy Gargiulo Vineyards