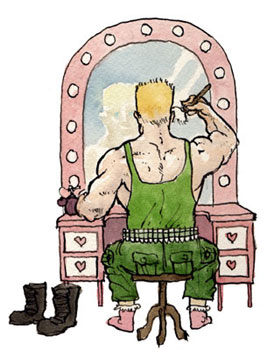 Dornfelder

Herr Dornfelder -- the latest action hero out of Germany. In your most recent role as 'the Germinator' all the older German stars seemed pale by comparison. Who knows how big you'll become, bulking up with each appearance. To think the critics suggested 'Nouveau Beaujolais-sequel' in their initial reviews. How mistaken they were!

Appellations Growing Dornfelder Grapes
Appellations producing the most Dornfelder wines:
Dornfelder

The BATF recently passed legislation allowing Dornfelder to be listed as a varietal on wines produced in the United States. Although the vine has yet to make a serious dent in United States wine culture, the success of this red grape in its native Germany has led to widespread experimentation with the varietal in Canada and the United Kingdom. Dornfelder was created in 1955, in the town of Weinsberg, to add pigment to the often pale reds of its northern homeland. Its parents are the relatively unknown Helfensteiner and Heroldrebe. Dornfelder had an inauspicious beginning. As of 1970, there were only 250 acres of Dornfelder in Germany. By 2000, the number had risen to over 10,000 acres, solidifying Dornfelder's reputation as the most successful red wine crossing in German history. Early versions of Dornfelder were often made as a 'Beaujolais'-styled wine. Modern versions tend to be primarily vinified dry, but occasionally off-dry. In their youth, Dornfelder-based wines can have intense blackberry and sour cherry aromas, with a refreshingly tart palate and soft tannic structure. Some producers have also seen the potential for creating age worthy wines, focusing less on its youthful fruit character, and more on the grape's structural harmony.