---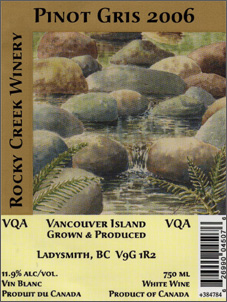 Rocky Creek Winery
2006 Pinot Gris
(Vancouver Island)
The unusual blend of this wine – Pinot Gris tweaked with two aromatic white varieties – reflects the varieties grown in the vineyard that Rocky Creek leases in Chemainus, on the east coast of Vancouver Island. Mark Holford, Rocky Creek's winemaker, believes that blending is one of his winemaking strengths. Besides, "all of the big wineries blend."

This wine, golden-hued from skin contact, has an attractively fruity aroma. On the palate, the wine shows flavours of pear and citrus with a backbone of minerals. The wine is finished crisply dry. "We make wine the way we like to drink wine, and that is dry," Holford says. The degree of residual sugar is imperceptible – just enough to balance Vancouver Island's typically tangy acidity.
Reviewed October 5, 2007 by John Schreiner.
Other reviewed wines from Rocky Creek Winery
---
Winery: Rocky Creek Winery
Vintage: 2006
Wine: Pinot Gris
Appellation: Vancouver Island
Grape: Pinot Gris / Grigio
Price: 750ml $15.50



John Schreiner

John Schreiner has been covering the wines of British Columbia for the past 30 years and has written 10 books on the wines of Canada and BC. He has judged at major competitions and is currently a panel member for the Lieutenant Governor's Awards of Excellence in Wine. Both as a judge and as a wine critic, he approaches each wine not to find fault, but to find excellence. That he now finds the latter more often than the former testifies to the dramatic improvement shown by BC winemaking in the past decade.