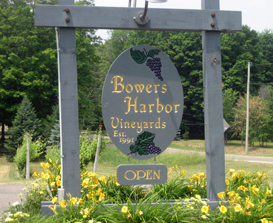 Bowers Harbor: The Focused Evolution of a Michigan Vineyard
Well-thought out plantings of terroir-specific varietals have paid off for Bowers Harbor Vineyards.
by Eleanor & Ray Heald
November 2, 2007
---
Eleanor & Ray Heald (ERH):
What are the differences among Blocks I, II and III?
Spencer Stegenga (SS):
Originally, Bowers Harbor Vineyards estate was a horse farm. Blocks I and II were southwest-sloping horse pastures. Actually, Ed O'Keefe [proprietor of
Chateau Grand Traverse
] offered to buy the grapes if we planted the fields.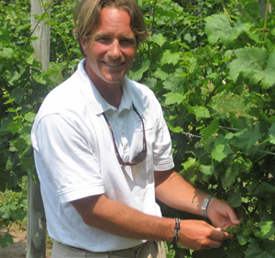 Before we did that, we began to rip apart existing barns and started larger wine production on our property because we were only making 500 cases per year until estate plantings came on line.
In general, the estate soils are light and sandy with some gravel. Block I is a 1.1-acre parcel planted in 1991 to
Chardonnay
Clone 96 vines. Today, these early-ripening grapes go into the Bowers Harbor Unwooded Chardonnay. Beginning with vintage 2007, however, these grapes will serve to launch a limited Reserve Chardonnay program. Additionally, Clone 239
Riesling
, that goes into the Semi-dry Riesling, was suited to planting in the block. To continue the Unwooded Chardonnay program, grapes will be sourced off the estate from other growers.
Also in 1991, a little over two acres were designated Block II with more Clone 239 Riesling. Until 2006, that went into the late harvest bottling, which has now transitioned to a dryer style. Yet, we're more committed to the style a particular vintage gives us, rather than stating that we make, dry, semi-dry and late-harvest bottlings each year.
For a varietal bottling, Block III, a small 0.30-acre parcel, was planted to
Gewurztraminer
, (but the) identification and source of this aromatic and spicy clone are unknown.
ERH:
In addition to blocks, Bowers Harbor has some single vineyards that it designates to special bottlings. What makes these special?
SS:
Langley Vineyard has a lot of everything - clay, denser soils with a good covering of top soil and high-quality gravel patches. Erica Vineyard, which was formerly a 25-acre sweet cherry block(purchased in 1994), has abundant soil nutrients.


Bowers Harbor Vineyards wines are now available in the

APPELLATION AMERICA

online wine store.
Langley was dedicated in 1998 by me to my grandfather Harold Langley. In 1999, this parcel witnessed plantings of Merlot, Riesling (more Clone 239) and a test block of 75
Cabernet Franc
vines. In 2000, the first 1,000 vines of UCD Clone 4 Cabernet Franc and 1,000 vines of
Pinot Noir
were planted in equal number of Clones 115, 113 and 667 on different rootstocks, depending on soil composition. The year 2001 saw more Riesling Clone 239 planted.
ERH:
Which bottlings use Langley Vineyard grapes?
SS:
Merlot
and Cabernet Franc compose the blend for the 2896 Langley bottling, named for the winery address on Bowers Harbor Road. Langley Pinot Noir is blended with Pinot Noir from the neighboring Old Mission Peninsula Montaña Rusa vineyard to make a varietal bottling. Some Langley Riesling makes a small batch of single vineyard Riesling and the remainder goes into the semi-dry Riesling.
In the late 1990s, wine writer Tom Stevenson got us excited about Cabernet Franc. He believed that it would be a good red grape for Old Mission Peninsula and Michigan in general. As a test, I planted only 75 Cabernet Franc vines and 1,000 Merlot. I was so impressed by the Cabernet Franc that we decided to plant another 1,000 vines in 2000. In my mind, with Merlot and Cab Franc, we were headed to a Bordeaux Right Bank wine style.
ERH:
And then there's Erica Vineyard, dedicated to your wife. How do grapes from this vineyard impact bottlings?
SS:
Erica Vineyard was first planted in 2001 to Cabernet Franc and Pinot Grigio. More of the latter was planted each year through 2006.
Cabernet Franc from Erica Vineyard constitutes a single-vineyard bottling launched from the 2004 vintage. Pinot Grigio from Erica makes up the majority of Bowers Harbor flagship wine, blended with Pinot Grigio from a neighboring Old Mission Peninsula vineyard and wherever we can find it. Target for 2007 harvest is crushing 40 tons of the variety.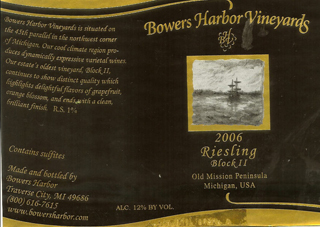 Cabernet Franc from Langley is night and day from that planted in Erica Vineyard. Erica tends to have more green flavors with more methoxypyrazine in years where we pick with less maturity. Erica soils may be too heavy for the best Cabernet Franc. Yet, each year, we're learning and trying different canopy management and cluster thinning techniques to improve quality.
ERH:
With respect to growing Pinot Grigio in Michigan, are there any specific vine needs required to make a Grigio style?
SS:
We have four-foot vine spacing and I'd move to a five-foot with eight-foot tractor rows. With that, we'd realize the same yields and quality but reduce planting cost. One foot spacing difference would also reduce the number of tractor passes.
Pinot Grigio is our work horse as is Riesling. In 10 years, we've not had to worry about ripening Pinot Grigio. For our style from our site, we pick between 21.5 and 22 degrees Brix. This yields a wine with 11.5 to 12 percent alcohol.
ERH:
In warmer years such as 2005 and 2007, how are you maintaining acid levels in Pinot Grigio?
SS:
With 2005, we added five percent
Sauvignon Blanc
and five percent Riesling to bump the acidity. What caught us off guard is that in 2005 we picked a month earlier than the 2004 that dragged on forever. We're better prepared now for warmer years. We have a following for a crisper style of Pinot Grigio and Michigan restaurants expect that since it's a great complement to Michigan's fresh water fish.
ERH:
It's obvious from an overview of Bowers Harbor vineyard plantings that Pinot Grigio has become the largest production and winery flagship. What is there about Pinot Grigio grown on the Old Missi