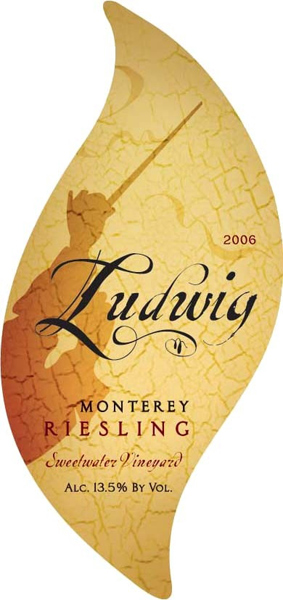 Monterey County (County Appellation)
Winemaker Eric Laumann:
Single-vineyard Riesling is "the only way Riesling should be made."
The Monterey winemaker doesn't stop there: He's flexing his creativity with Albarino, Tannat, Gewurztraminer and Dornfelder.
by Laurie Daniel
March 31, 2009
---

he shelves are lined
with single-vineyard Pinot Noirs, Cabernets and Chardonnays from California. But have you ever heard of single-vineyard California Riesling? That's where winemaker Eric Laumann comes in. He believes that
Riesling
is a transparent grape that reflects the nuances of where it's grown. "In my opinion," Laumann says, single-vineyard Riesling is "the only way Riesling should be made."
So
Monterey County
- much of which is relatively cool and which used to have a good reputation for Riesling - was the logical place for him to make his notion a reality. Besides, he says, "Riesling's not that hard to get."
Laumann worked at Bonny Doon Vineyard from 2000 to 2002, which is how he got interested in Riesling. He was making the winery's Pacific Rim Riesling before that project was moved to Washington. "Randall (Grahm) is a good educator," Laumann says, adding that Grahm would bring in various German Rieslings for the staff to taste. Among better German Rieslings, of course, vineyard designation is the norm. "The more you study it … the more complexities you see," Laumann says.
He left Bonny Doon to help open Monterey Wine Co. in 2002, but Laumann continued to look for ways to "really flex my winemaking skills," as he says. As one condition of his employment, the partners who own the winery agreed to plant a little
Albarino
and
Tannat
- two more grapes he'd worked with at Bonny Doon - which led to another project called
Cambiata
(more on that later). But Laumann also missed making Riesling.
He found a couple of vineyard sources and made two vineyard-designate Rieslings in 2006 under the
Ludwig
label. He chose the name Ludwig (as in Beethoven) because of his interest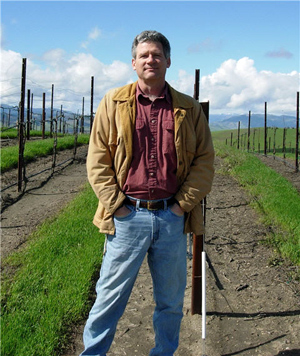 in music and because of his belief that Riesling may have inspired the German composer. Laumann made the Rieslings in a drier style, he says, because "I want wines to cleanse your palate and work with food."
One of his Riesling sources, the 900-acre Sweetwater Vineyard, is a windswept spot off Bitterwater Road, near King City. The lower part of the vineyard is planted with Cabernet Sauvignon, Chardonnay and Pinot Gris; his two-acre Riesling block is on a windy, exposed knoll at the top of the hill, on soils that don't hold much water. "Mother Nature can't grow anything up here," Laumann says. Indeed, the nearby hills support only grasslands used for cattle grazing.
"There are challenges here," he adds. "But that ends up making really good Riesling." The wind and dry, rocky soils, he believes, give the wine "that mineral strength … that complexity. … It's not a pretty wine. It's a lot more bracing."
An excellent description of the racy, minerally 2007 Sweetwater Vineyard Riesling, which finishes with a bare hint of sweetness. (I also tasted the 2008, which had been recently bottled, and it was remarkably consistent.)
In 2007, Laumann also made a Riesling from a gravelly spot in Greenfield called Lorelei's Vineyard. It's a much more sheltered site than Sweetwater Vineyard, and the wine has less minerality and is a bit more generous, although the residual sugar is slightly less.
The Lorelei's Vineyard wine was discontinued for 2008, but Laumann has added a Riesling from the
Santa Lucia Highlands
. The grapes are from Riesling vines that are more than 20 years old and planted near the top of the Hillside Vineyard, which is near the middle of the appellation. The difference in this Riesling is striking: The 2008 Hillside is much more aromatic and fleshier than the 2008 Sweetwater, with white stone fruit flavors. "I did not know it was going to be as good as it was," Laumann says.
Clearly there's a good reason for the vineyard designations on these wines. They're not just a marketing trick, as so often seems to be the case. And marketing certainly isn't much on Laumann's mind: Although timing has been on his side. Riesling sales have posted dramatic gains in the past couple of years - he's not sure how popular single-vineyard Monterey Riesling will be. "Whether that has any marketability or consumer acceptance is another ballgame," he says.
For the Ludwig label, Laumann is also working with a couple of other northern European grape varieties. First up is
Gewurztraminer
, which comes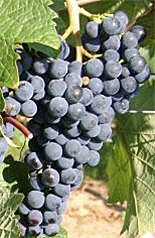 from a vineyard just northwest of King City. The first vintage, 2008, has explosive aromas of lychee and rose petals and is spicy and ripe on the palate, with just a hint of sweetness.
He'll also be adding a third wine to the Ludwig lineup:
Dornfelder
, made from a red grape grown primarily in Germany that's rarely seen in California. Steve McIntyre, a grower who is president of Monterey Wine Co., put in an acre for Laumann at his vineyard in the cool northern end of the Santa Lucia Highlands, and the first grapes will be harvested this fall. How successful it will be is anyone's guess, but Dornfelder, which is also grown in England, likes chilly surroundings.
Laumann's other venture is called Cambiata - a musical term that pertains to the progression of notes - and focuses on Albarino and Tannat. Albarino was a natural. Laumann wanted to pair local wine and local cuisine, working on the notion that what grows together, goes together. The Monterey area is known for seafood; Albarino is the ideal seafood wine.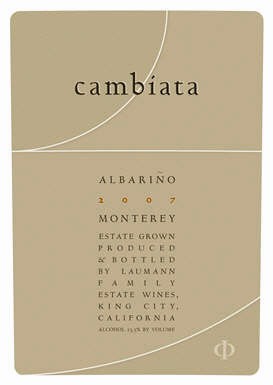 Tannat was another story. He was looking to make a wine that was "really going to keep me alive as a winemaker." Tannat, which has a reputation for making a hugely tannic wine, "seemed to be the biggest challenge."
McIntyre planted two acres each of Albarino and Tannat next to each other in a benchland vineyard northwest of King City, near where Laumann's Gewurztraminer is grown. Growing the two varieties side by side is an interesting exercise in terroir: Albarino, like Riesling, thrives in a cool climate like Monterey. (In fact, there's some Riesling growing nearby that Laumann is interested in trying for the Ludwig label.) On the other hand, Tannat - traditionally grown in Basque regions of southwest France - is accustomed to warmer sites. (In California, for example, Tannat h