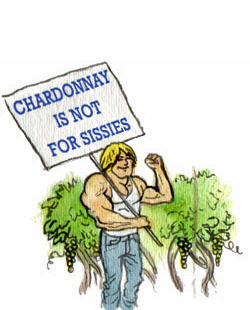 The Great White Lie:
White Wine is Only for Sissies
by Alan Goldfarb
July 29, 2008
---
W
hat the hell is wrong with white wine? And how did they come up with the idea of equating white wine with a lack of cajones?
I know precisely when it started, this idea that white wine, especially as compared with red, was somehow lacking. You've got to go back to Nov. 17, 1991. I know exactly when it was, because on that fateful night I was folding my laundry and ironing my undies.
As I was pressing my blue jeans, there was Morley Safer positing the question: How come the French, who eat a diet rich in fat, have a lower incidence of heart disease than Americans? Right then and there,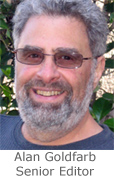 before the final ticks of that red-rimmed clock hit the 12, Americans made a run on red wine.
Red wine was going to be the curative; and it was red wine as medicine, once a day, every day for the rest of our doggone lives. On the continuum of the history of red wine in this country, and to further prove my point, white wine was left to brown on the shelves.
The Californians ramped up the octane on their reds;
Sideways
did for Pinot Noir what the Prius is doing for cars, and young Americans lapped it all up like nobody's business. Red wine became like bagels and croissants in America, more resembling deflated Michelin tires and rolls as big as downy pillows.
Big and red is good and powerful and packing a punch the envy of Rocky Marciano. White wine? Go to your corner and have the cutman fix up that battered schnoze of yours.
Even my significant other, Alice, won't touch white wine. even when I plead and cajole that she's missing out on some of the best wine in the world. Oooh, she's so tough and stubborn. Says whites are for wimps - (is that what she thinks of me?).
Don't misconstrue. I love red wine. When I sit down to a meal, I approach it as do the Chinese philosophers who speak of going from the sea to the earth, to the heavens (won ton or won tun, by the way, literally means "little pillows or clouds"), progressing from lighter appetizers to the more substantial, to bigger and on to the more manly man things such as brontosaurus bones.
There are some terrific white wines out there now
, some more flavorful, with more character, and much more exciting than so many of the reds that are being turned out today.
I had an Argentine Torrontés in Mexico recently with some of the freshest and most flavorful camarones I've ever had. The wine's fresh bright fruit lit up my mouth.
Tasting some Oregon Pinot Blancs in the offices of
APPELLATION AMERICA
, and some from Alsace on a trip there a few years ago, made me believe that this variety – made right – is not the poor person's Chardonnay.
Having a crisp and round Austrian Grüner Veltliner at the wondrous but hard-as-hell-to-get-into Slanted Door in San Francisco persuaded me that this is the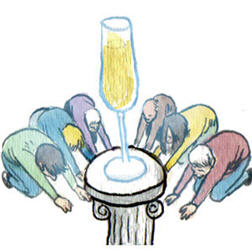 exact wine to pair with Charles Phan's haute Vietnamese food. (I've convinced Alice of this and she imbibes unequivocally as Grüner at the Door is about the only white she'll drink. And she admits she loves it - and me, despite my proclivities toward whites.)
There's a white blend from South Africa called Sequillo that I put on the wine list at Medjool Restaurant in the Mission in San Francisco (I'm the wine consultant there) that I think is about as exciting as, well, as Alice.
The 2006 from the Swartland near Cape Town, is a blend of Chenin Blanc (now there's an overlooked varietal), Grenache Blanc, Viognier, and Roussanne. Man, it's loaded with minerality and is so elegant and so well made that it's a revelation. Oh, and did I tell you it's organic and biodynamic?
My colleague in these pages, Dan Berger, recently wrote about three whites that he tasted. They're from California and not many know about them, I'm sure. Dan cites the French Colombard (remember that dinosaur?) from McNab Ridge, the Chasselas Doré or Golden Chasselas (and that fossil)) from Berthould, and the Tocai Friulano made by David Noyes.
Add to this, the Fiano, Falaghina and Vermentino from southern Italy, the Cortese from the north (also made by Mosby in Santa Barbara), Gewürztraminer from Alsace and the Anderson Valley, the Aligoté from the Côte d'Or. And, of course, the fabulous Rieslings from Germany, Alsace, upstate New York, and Oregon.
I could go on and on. But I've made my point. Many of you are missing out on some of the best wines being made in the world today if you haven't picked up on these whites.
I wonder if Barack drinks white wines. Of course he does.