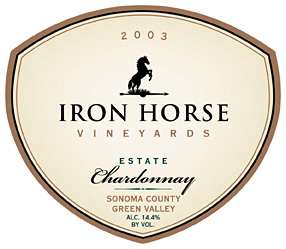 Green Valley of Russian River Valley (AVA)
Iron Horse: Everything Old is New Again.

Really.
by Dan Berger
July 7, 2009
---
You need not visit Iron Horse Vineyards in one of the coolest regions in California to see the knotty issues that faced second-generation micro-manager Laurence Sterling as he began to deal with a project that, in all honesty, didn't need fixing.

But it helps.
Sterling had been an attorney, like his father Barry, before he joined the family winery years ago. After years of looking at the situation, he slowly delved into the fine details of the project. The first thing he noticed was that Iron Horse was a stellar winery in
Green Valley
, the icebox of Sonoma County's Russian River Valley, turning out great sparkling wines, Pinot Noir and Chardonnay, and other assorted little treats. Moreover, sales rarely flagged, despite top-of-the-line pricing, and accolades came from all quarters.
As he looked a lot closer, however, the younger Sterling (along with his sister, Joy, and parents Barry and Audrey) began to see what the future held. It included the simple fact that grapevines age, and as they do, they have to be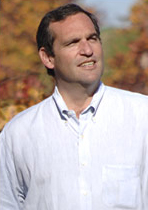 replaced. "If at least 5 percent of your vineyard isn't being replaced every year," he said, "there may come a time when suddenly you will have to replant a lot of vines, and it may force you to do it faster than is optimal."
Roughly five years ago, Sterling embarked on an energetic program that only a micro-manager could envision. When you see the various mini parcels on the Iron Horse ranch northwest of Sebastopol, you realize the challenge. Here there are hills and dales, culverts, swales, and so many soil types, angles of sunlight, and other geographical anomalies that replanting called for what Sterling called a site-by-site assessment.
"Look over there," he said pointing to the crown of a small hill. "The soil up there is thin and there is no sub-soil water, and the soil itself is different from the soil over there," he said, pointing to the mid-slope of the same vineyards. "And then down there, the soil is a different type again, but the water table is right under the surface."
So although the vineyard is small and entirely contiguous, the differences between two plots just 10 feet away from each other are so great that it called for a replanting that was almost done on a plant-by-plant basis. This meant that different rootstocks were needed for different spots, a drought-tolerant stock at the top of the vineyard, a moisture-sensitive rootstock at the lowest level, and different rootstocks in various areas of the mid-level vineyard. As for the top-wood, different clones did different things, so there was that complicated issue. "Then there is trellising," said Laurence, who seemed undaunted by the manicured nature of these new

vineyard configurations. He said that more leaf surface was essential in some vineyards, but less in other areas. Moreover, he needed to determine which vines should be pruned in which manner.
What's also apparent when you see this property is that although Iron Horse has 160 acres of vineyard, with 50 acres already replanted and 7.5 acres now in various stages of replanting, few of the parcels are very large. Some hills are steep and small; others are broad, but snake down into hollows with different soil types than adjacent swales. And wind patterns here differ, and so does the encroaching fog.
Wine maker David Munksgard, who worked in New York's Finger Lakes and knows a thing or two about cold climates, then had to come up with a strategy to deal with the searing acidity levels of the various vineyards. For instance, he came up with a number of steps to retain the freshness of his
Chardonnay
, measures that have led to a distinctively styled wine that, despite high acid and low pH, is fresh and delicate but still has the broad texture people like in Chardonnay. This regime does not allow any of the Chardonnay to go through malolactic fermentation (to retain primary fruit), and thus the acids are rather high. But he does skin contact and aggressive lees stirring in specially designed barrels that are water-bent, and then toasted later on.
Skin contact is a procedure that fell out of favor about 20 years ago when it became clear that such a tactic led to rapid oxidation of the wine. But Munksgard said that was done with warmer climate fruit, perhaps under warmer conditions, and with poor equipment – "bad de-stemmers, bad presses." He also noted that when the skins of the Chardonnay were torn, skin contact might have led to some unwanted flavors.
"But no one has that equipment any more, and when you are using carefully harvested fruit that is undamaged, and you treat it very gently, and you get the fruit in very cold by harvesting at night, and you do your skin contact in a cold tank, you have a lot better control over things." Munksgard does between two and four hours of skin contact with the Chardonnay, and admits that some wine makers have looked askance when he's mentioned the technique.
"It might spook you the first time you try using this fruit because it doesn't immediately reveal itself," he said. "If you are used to those broad, open flavors [of Chardonnay], that's not what you get in Green Valley, so these wines respond to aggressive lees stirring. That helps the mouthfeel. Otherwise you get a pretty austere wine."
The idea behind skin contact is to put whole clusters into the press and press half the load, "and then I leave the skins in the press, and toss the juice in and let it set for two hours." Sometimes more. How long depends on the condition of the fruit.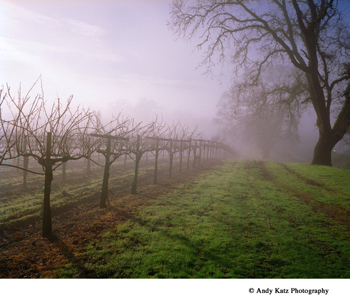 "I would never do this with late-afternoon fruit. And the unoaked Chardonnay really requires a lot of skin contact, and it has to come from the first picking. Sure, skin contact goes counter-culture; people tell me it's risky. But try the wine."
Despite high acids and very low pH levels (below 3.0!), the wines retain a lovely rich texture, and appear to be aging nicely. The 2005 Rued Clone Chardonnay remains superb two years after its release date. Moreover, the winery's sparkling wines are gaining more acclaim than ever, with a Reserve bubbly now fetching $50 from a demanding clientele.
Making wine in Green Valley calls for discarding many conventional techniques. And growing grapes at Iron Horse with its small parcels and variegated soils calls for a re-thinking of what conventional vineyard wisdom once was all about.
Iron Horse may have been founded 31 years ago, but it is essentially a new winery in the last few years thanks to renewed vigor by the second generation.
---
Photos by Andy Katz for Iron Horse Vineyards