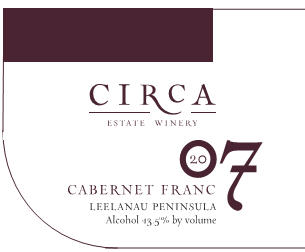 Circa Estate Winery Attempts Timelessness
by Eleanor & Ray Heald
July 22, 2009
---

ypically, "circa," a preposition used before a date
to indicate an approximate or estimated time is also synonymous with approximately, around or even roughly. Yet
Circa
's proprietors, winemaker Margaret Bell and her winery general manager husband David Bell, didn't suggest any of those associations when we inquired about the name. "Timeless anywhere or anytime," was their definition. Once you also know that Margaret's screen name is "bohemiandoll," you sense further that Circa is not just a new Leelanau Peninsula AVA winery, but one on a new wave course.
"Deliberately, we did not," Margaret begins, "choose a name that has meaning in this location only. Often, an obscure place name is not recognized outside the immediate locale. But 'timeless' transports one anywhere and 'circa' offers a sense of circular and in motion."
A step back in time is required to paint a complete picture.
The Bell's winemaking interest began years ago when they traveled on dates from the Chicago area to harvest grapes in southwest Michigan vineyards. Once married, they planted vines as part of the landscaping at their suburban Chicago home. For weekend fun during the harvest period, they picked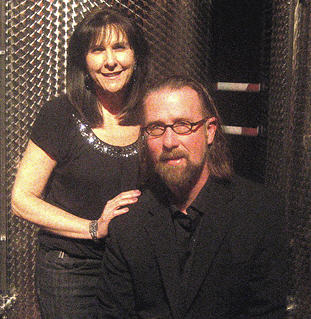 grapes for a commercial winery in southwest Michigan (Lake Michigan Shore AVA) and accepted grapes as payment for picking. They took their "earnings" back to their Chicagoland home for their amateur winemaking hobby which totaled 75 to 100 gallons annually.
One might call this a hobby gone wild since it inspired the Bells to buy an exceptional 50-acre rolling parcel of land on
Leelanau Peninsula
. At first, the principal yield was sold to area wineries. Eventually, plantings grew to 24 acres of
vinifera
and hybrid varieties, which are now used to produce Circa wines. "This property held more than sentimental value," David notes. "Rolling hills (not a prime feature of the state's AVAs) provide a variety of aspects and the AVA's cooler climate retains grape aromas and flavors. Rather than sandy (an expected composition of Michigan soils), ours are clay and gravel, so we can grow intensely-flavored whites and reds. We're quite happy with Chardonnay, Vignoles, Seyval, Pinot Gris, Muscat Ottonel and Riesling among white varieties. Cabernet Franc, Lemberger (a.k.a. Franconia) and Merlot are our top reds that ripen easily. We tried Sauvignon Blanc, but it did not winter over well. We've not given up on the remaining vines, however." Most varieties are planted on drought-tolerant 3309 rootstock.
"Nearby large bodies of cold water (Suttons Bay, Lake Leelanau and Lake Michigan) inhibit bud break in spring and all but eliminate frost issues. It then lengthens the growing season in autumn for better maturation. The real estate agent had maps from former cherry farmers that indicated cold air drainage from the hills. The site has a number of very positive attributes. We always have a drought period in July-August and the deep heavy soils have excellent water-holding capacity. It has made our vines deep rooted and has allowed us to avoid irrigation," David notes.
"If a consumer has an interest in non-California wines, they have a curiosity about different wines. We believe that once a vintner needs to commit to irrigation, he gets into a sameness of varietal character because the root system can stay near the soil surface and not sink a tap root." To this the Bells add Leelanau Peninsula's overall cooler climate as an advantage in retaining aromas and flavors in the grapes and wines. "In warmer climates, growers don't have to worry about sugar levels, but they lose what a cooler climate retains."
The Bells are committed to using only local grapes for their wines, which at harvest are hand sorted then crafted to wine in a state-of-the-art facility, located on the lowest level of the winery. And lest you're thinking that the Bells are seat of the pants vintners, they're not. Their expertise in picking criteria was developed over years of visiting vineyards in New York State and Ontario. Margaret honed her winemaking skills through classes, especially those through Washington State and the University of California Davis. She also credits mentoring opportunities with award-winning winemakers from the Leelanau Peninsula AVA.
Understanding that image is an important element
in advancing Circa in a competitive wine world, the Bells hired local craftspeople to construct their winery, which opened on New Year's Eve 2008. Its dark interior is counter to new wineries such as their northwest Michigan Old Mission Peninsula AVA neighbor, 2 Lads Winery, which is of contemporary design, featuring simple lines and broad expanses of glass that offer a commanding view of Grand Traverse East Bay. Modernism is a new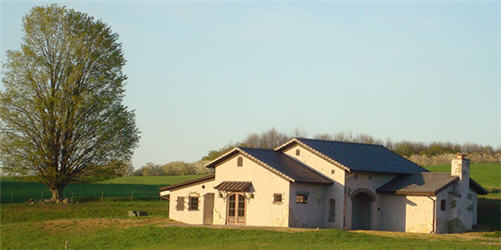 theme added to Michigan's earliest wineries which opened in former school houses or older structures. Contemporary and innovative design has found its place and certainly represents a new era.
Expressing environmental consciousness, the Bells placed a sod roof over the production space. It maintains temperature and, in cooler months, funnels heat generated from the fermentation tanks to the tasting room's geothermal heating system.
Still the question begs: does contemporary winery architecture offer a new sense of place, something AVAs are meant to convey? "It was important," Margaret explains, "that the winery looked like it had been here forever (ah yes, timeless as she stated earlier). We tried to express this in the winery's Old World-style architecture with an eight-foot, carved-wood door, graduated tile rooflines, copper eaves and wrought-iron accents."
Harmony or contrast? The Bells have achieved the latter with their wine style – distinctly New World, ripe fruit forward whites, such as 2007 Pinot Grigio, 2007 unoaked Chardonnay with some buttery notes from chosen yeasts (Simi White and T306, an Australian isolate) and aging on the lees. Cabernet Franc 2007 sings with raspberry and cherry notes while six months in new medium-toast barrel inserts adds vanilla overtones in a full, rich and lush orchestration.
What can be appreciated most about the Bells "attitude" toward their wines is best expressed by Margaret's remarks. "We could invite you to dinner and go through the whole meal drinking only Circa wines. And if we did that ourselves every day, we'd say, 'wow, these are really good.' We believe, however, that we must constantly educate our palates; tasting wines from many regions of the world. That way, we'll know where the bar is and where we are positioned in the competitive world of wine."
---
Photos by Ray Heald