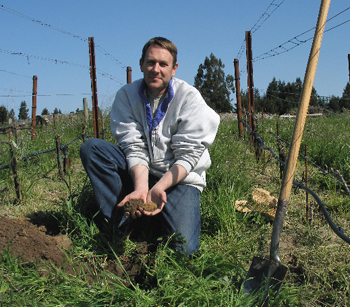 Burgundy And Biodynamics:
Ted Lemon Of Littorai Wines
by Rosina T. Wilson
April 30, 2009
---

hat do cow's horns, French literature, and thoroughly distinctive Chardonnay and Pinot Noir have in common?
For a quick answer to that question, just ask Ted Lemon, co-founder (with his wife Heidi) of
Littorai Wines
. When I arrived at his hilltop winery, just outside the town of Sebastopol (Sonoma County), Ted welcomed me warmly, suggested a few options for starting our visit, and grinned when I asked to see the vineyards first.
How fitting. Because Ted, a passionate caretaker of his environment, puts his vineyards first in every respect. And he has adopted some extraordinary (some might say eccentric) practices to keep his land as healthy as possible, preserving and accentuating each vineyard's influence on his finished wines.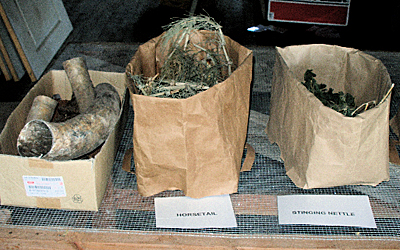 As we headed out behind the winery, Ted started telling me about the unusual path that led him here. In high school, he had briefly lived with a family in France; then, while majoring in French Literature at Brown University, he returned to France, this time to the Université de Bourgogne in Dijon to spend his junior year.
"It's a wonderful old city, centrally located and rich in culture, and I loved it," he remarked. "I took a wine appreciation class, and I was invited to come back after graduating from Brown. So I returned to Dijon, this time to get an enology degree."
Afterward, Ted apprenticed at a number of well-known estates, including Domaine Dujac, Roumier, Bruno Clair, and Domaine Guy Roulot in Meursault, where he was the first American ever to serve as vineyard manager and winemaker of a Burgundian estate.
"That was the classic French education in terroir. You have to be educated in a profoundly cultural sense – far beyond the science of wine. And once you
The Side Dish
Tasting his three newly released '07 Chardonnays, Ted and I looked at the not-always-subtle differences among them. His first, the bright and crisp Mays Vineyard, comes from the westernmost vineyard in the Russian River Valley AVA. His second Chardonnay, from Thieriot Vineyard west of Occidental, tastes

a bit rounder and fuller, with aromas, according to Ted, of "linden and lemon verbena." His third bottling, from the Charles Heintz Vineyard on the east side of Occidental, shows what Ted calls "pear blossom and jasmine aromas."

We both remarked that the lively acidity and citrus overtones of all three would be a great match for seafood. Ted recommended sashimi, composed seafood salads, anything with Asian spices, and scallops with saffron butter, a favorite at his tastings.

As the wines age and "develop more of the tertiary aromatics," he likes to serve richer, more complex foods. His favorites? "Classic lobster dishes, seafood bisques, risotto with morels and trumpet mushrooms, and aged hard cheeses like Manchego, Parmigiano Reggiano, and Mimolette. Just perfect with a Chardonnay that's about seven years old."
~RTW
experience the effects of terroir, it changes your whole approach to winemaking. In Burgundy, there is no such thing as winemaker and vineyardist. Everybody does everything. And that model makes perfect sense to me."
When he returned to the U.S., Ted investigated possible vineyard/winery sites "from Walla Walla, Washington to the Mexican border" with the intention of "growing Pinot Noir and Chardonnay according to the Burgundian model." He discovered that "there was some really great Pinot being made in all those locales," and he was "drawn to the terroir-driven wineries, such as Chalone, Mt. Eden, and especially Calera," whose Mt. Harlan vineyard site he calls "the Holy Grail for Pinot."
Ted finally decided on California's North Coast "because it had the greatest untapped potential, and the largest diversity of soil types," and he recognized the great promise inherent in this property, now in the
Sonoma Coast
AVA. "When you travel through Europe, you get a good sense of what makes for a good vineyard. First, you need the right site. Second, you need the right material (varietal, clone, rootstock) planted on the site. Third, you need great farming. It's like a three-legged stool. If one leg is missing, the stool falls over."
In addition to his estate vineyards, Ted also sources fruit from several choice locations in cool sections of Sonoma and Mendocino for his two Burgundian varietals. After harvest, he applies what he calls "terroir thinking", treating the different lots as similarly as possible to eliminate all factors except those determined by place. He mentioned that later we would taste this for ourselves, with his three 2007
Chardonnay
s, just released on March 1st, and several of his single-vineyard Pinots.
Throughout the morning, Ted's dry humor kept popping up at unexpected moments, such as when he turned to a vineyard worker and asked for a shovel. After the man found one and handed it to him with a smile, Ted quipped, in Spanish, "Thanks. Where's the 'on' button?"
Ted put the shovel to good use once we reached the vineyard. Digging down through the thick, green cover crop (more about this in a moment), he reached in and handed me a fistful of dirt. "Here's the classic Goldridge soil of Sebastopol," he began. "It made the reputation of Gravenstein apples."
I squeezed the soil hard, but instead of clumping together, it broke apart into fine, dark granules. Ted pointed: "See that? There's clay in it, but there's also enough soft sand to keep it loose and give it really good drainage." Then he picked up his shovel again, dug a bit deeper, and handed me a second sample. "Look how much lighter the color is. This layer, below about 18 inches, has more clay, and it's full of marine sediment from the time when this was an inland sea. It acts like a sponge to hold rainwater, then delivers it gradually back to the vines."
As he replaced the soil and tamped down his big cover-crop "divot," Ted beckoned me down to look more closely at the dense green tangle between the rows of vines. "We probably have forty different species right here, in just one square foot," he began, indicating vetch and burr medic (both soil-restoring legumes), low-growing oats and barley, dock, ("a good indicator of soil moisture"), and Dutch white clover. "Each one has a particular function in keeping the vineyard healthy."
Then he gestured toward some bright splashes of orange and yellow, a short distance away. "California poppy and calendula. We plant every tenth row to wildflowers, and the ones that do best here regerminate and spread." Ted also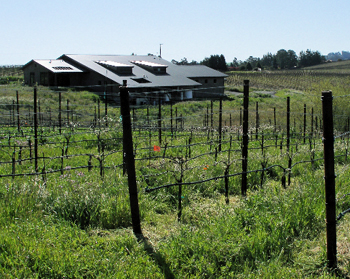 pointed out some nearby lan