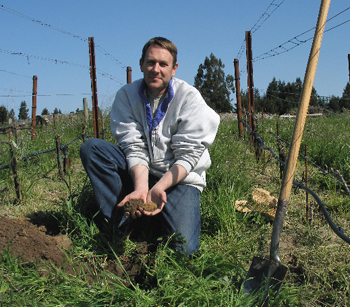 Burgundy And Biodynamics:
Ted Lemon Of Littorai Wines
by Rosina T. Wilson
April 30, 2009
---

hat do cow's horns, French literature, and thoroughly distinctive Chardonnay and Pinot Noir have in common?
For a quick answer to that question, just ask Ted Lemon, co-founder (with his wife Heidi) of
Littorai Wines
. When I arrived at his hilltop winery, just outside the town of Sebastopol (Sonoma County), Ted welcomed me warmly, suggested a few options for starting our visit, and grinned when I asked to see the vineyards first.