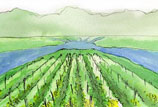 River Junction, at the confluence of the San Joaquin and Stanislaus Rivers, is one of the few California appellations that is home to a single proprietor, McManis Family Vineyards. McManis successfully petitioned to have this area recognized as an AVA due to its unique combination of climate and soil. The proprietor noticed that the area seemed to be a depository for cooler maritime air, causing land surrounding the river junction to be an average of two to five degrees cooler than other Central Valley areas. The soil is unique in this area, since it's the only place that a substantial amount of Grangeville fine sandy loam is found. These soils, located in the delta's driest part, combine with the region's cool temperatures to foster successful vineyards. River Junction encompasses 1,300 acres, with three-quarters of it already under vine. Chardonnay constitutes 90% of the planting. Grapes are susceptible to seasonally later frosts, which could prove challenging in some years.

A Day in the (Rutherford) Dust
By
Barbara Trigg
August 2, 2013
While the early days of Napa Valley always mentioned the dust in summer, Rutherford Dust referred to an entirely different context. During a recent tasting in Napa Valley held by the Rutherford Dust Society a wide wide range of Rutherford wines shed new light on the long term meaning.  [>] continue

Whitehall Lane Winery, A 20 Year Story of Vineyards
By
Roger King
July 15, 2013

Embracing Virginia's Terroir
By
Richard Leahy
June 2, 2013

Shake Ridge Ranch - Gem of the Sierra
By
Roger King
May 16, 2013

HR9 Supports (CA) Historic Vineyard Society
By
Roger King
May 9, 2013

Tannat, Vibrant Across the America's
By
Barbara Trigg
May 6, 2013

Welcome Middleburg Virginia AVA
By
Roger King
January 4, 2013

Humboldt County: Is Too Much Terroir Possible?
By
Clark Smith
October 14, 2012