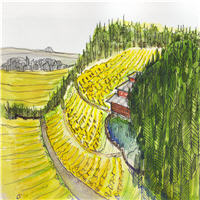 The Chehalem Mountains has a rich history from Native American roots, early European settlements to the viticultural landscape it has become today. The first modern vineyards were established in 1969 when northwestern pioneer Dick Erath planted what he called Chahalem Mountain Vineyard. David Adelsheim, Dick and Nancy Ponzi and Paul Hart soon followed. The associated Ribbon Ridge AVA saw it's first Pinot Noir planting by 1980, but it was not until December 2006 that Chehalem Mountains AVA was officially acknowledged.
Diverse soils were brought about by the forces of marine sandstones formed 20 to 40 million years ago and exposed by the uplift of the mountains, lava flows forming the Columbia River Basin 5-15 million years ago and winds scouring the sediments of the surrounding soils over the last million years or so. This has produced well drained red volcanic soils to the southeastern Chehalem Mountains, silt deposits on the northwest flanks and high quartz content throughout.
An estimated 150 vineyards are now planted within the AVA, mostly smaller blocks averaging just over 12 acres and family farmed at elevations of 200 to 1000 feet. While at present this 68,000+ acre appellation, just 19 miles to the southwest of Portland, OR, holds a scant 1600 acres planted to wine grapes, Oregon's signature Pinot Noir is the benchmark to this area.

WAWGG Banquet Explores Washington State Terrior
By
Roger King
February 2, 2014
The multiple appellations of Washington will be tasted in a unique banquet dinner at this years Washington Association of Wine Grape Growers Annual Meeting and Trade Show. Nuances of that regional diversity have been paired with the meal being prepared by Chef Dan Carr.  [>] continue

Taking Focus on Appellation
By
Clark Smith
December 9, 2013

Whitehall Lane Winery, A 20 Year Story of Vineyards
By
Roger King
July 15, 2013

Embracing Virginia's Terroir
By
Richard Leahy
June 2, 2013

Shake Ridge Ranch - Gem of the Sierra
By
Roger King
May 16, 2013

Tannat, Vibrant Across the America's
By
Barbara Trigg
May 6, 2013

Welcome Middleburg Virginia AVA
By
Roger King
January 4, 2013

Humboldt County: Is Too Much Terroir Possible?
By
Clark Smith
October 14, 2012