---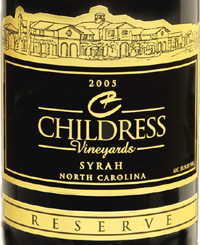 Childress Vineyards
2005 Syrah Reserve
(North Carolina)
Syrah is one of the most promising red varieties for North Carolina, with more being planted every year. The 2005 is the first Reserve Syrah from Childress, made from young vines (third leaf); thus the addition of Cabernet Sauvignon to add structure and a bit of flesh, since 2005 was a good ripe vintage for reds and free of rain during harvest. Winemaker Mark Friszolowski also used Syrah in 2005 to blend with other Reserve reds, including Childress Reserve Cabernet Franc, Merlot and Cabernet Sauvignon, each containing around 20% or so.

The '05 Reserve Syrah is lively and spicy with blackberry flavors and the intensity to handle hearty meat dishes such as beef or lamb. I expect it to be even better with another year or so of bottle age, which will enhance both aroma and complexity of flavor.
Reviewed January 16, 2008 by Barbara Ensrud.
Other reviewed wines from Childress Vineyards
---
Winery: Childress Vineyards
Vintage: 2005
Wine: Syrah Reserve
Appellation: North Carolina
Grapes: Syrah / Shiraz (75%), Cabernet Sauvignon (25%)
Price: 750ml $24.99



Barbara Ensrud

Barbara Ensrud has been writing about and reviewing wines since 1979, with a nationally syndicated column for the New York Daily News and numerous other publications. Her "no numbers" approach to evaluating wine is simple: how does it taste – on its own, as well as with particular foods? Is it good value, whether $10 or $210? Does it measure up in terms of varietal character and regional identity? …"When I taste a good wine, I can't wait to share it with fellow wine lovers."