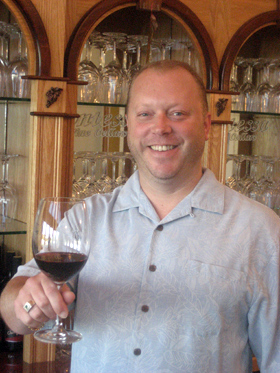 Contessa Wine Cellars:
Where Hybrid Grapes are King
by Eleanor & Ray Heald
January 21, 2009
---

ontessa Wine Cellars
typifies the
Lake Michigan Shore
AVA where hybrid grape varietals rule. Owned by 37-year-old Tony Peterson (son of winemaker Duane Peterson of Peterson & Sons Winery in Kalamazoo, Mich.), and his wife Liz,
Contessa
pays homage in name to Liz's Sicilian heritage and is her mother's maiden name. Likewise, a number of the wines have Italian proprietary names, such as Bianco Bello, an off-dry hybrid white blend of Seyval, Vidal and Vignoles.
Tony worked with his father since he was 12 years old, and as an adult, 12 years full time before the couple decided to spread their wine wings and found Contessa in 2000. It took two years of sweat equity to construct the winery and open in 2002. "The year we began, three other new wineries opened in the Lake Michigan Shore AVA (LMS). Before that, no winery had opened since 1990. Even though the AVA is Michigan's oldest, new wineries gave the region a boost - with four more wineries since 2002 indicating the potential."
The AVA Itself Stimulates Growth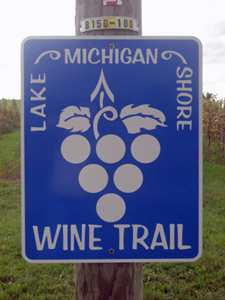 Sometime in the not-too-distant past,
vinifera
grape varieties became the darlings of wine cognoscenti. Hybrids, which gave LMS its start - due to their resistance to cold and early ripening - became a second thought. No doubt that's because the
vinifera
were usually bottled as single varietal wines which sang a single note. With modern viticultural practices and winemaking, hybrid varieties grown in the sandy LMS soils have improved, not to the point where they rival
Chardonnay
as a stand-alone, but as blends such as Contessa's Bianco Bello.
In LMS, all three hybrids,
Seyval
,
Vidal
, and
Vignoles
ripen with a richer aroma and flavor profile, harmonizing as a wine blend. Citrus fruits and mineral notes take center stage and gain complexity through malolactic fermentation and some oak aging. "Consumers," says Peterson, "no longer focus on whether the grapes are hybrids or not; they are attracted to the overall aroma and complex flavors of the blend."
Then, there's Contessa's Divino, a blend of Riesling and the hybrid Chardonel (a late-ripening hybrid with Chardonnay in its parentage cross) which pleases as a dry wine - refreshing with crisp acidity. "We can't grow Sauvignon Blanc because it's not winter hardy," Peterson continues, "but we can make Divino and offer a unique taste that only Riesling and Chardonel together and grown in LMS can offer at a value-friendly price of $12."
Rounding out what Contessa does with LMS
vinifera
varieties are three stellar examples:
Pinot Grigio
, which in the 2007 showcases aromas of citrus, ripe white peach and gentle tropical fruit notes that are well-mirrored on the palate. Slightly floral and packed with white-fleshed fruit sensations, 2005 Chardonnay was barrel fermented in seasoned oak and retained in barrel on stirred lees for 12 months. Buttery and slight mineral notes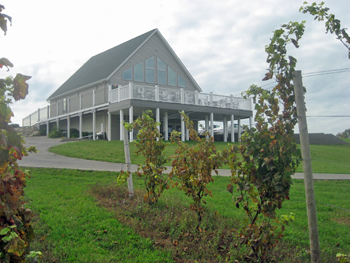 hang in the finish of this dry rendition, grown in LMS with a longer growing season, but still showing its colder climate characteristics. Last, but not least is Contessa's 2005 LMS
Merlot
with bright cherry aromas, hints of raspberry and a mélange of red berry fruit. Mellow yet structured from aging 18 months in French oak, it presents a lively fruit core on the palate lasting through a medium-long finish.
Contessa wines are sold directly through the winery to a consumer base that is predominantly from Illinois – vacationers from Chicagoland on a weekend getaway. "Until the laws become simpler for out-of-state shipping," Peterson says, "I don't envision that we'll go through the hassle." That said though, over the last two years, Contessa has witnessed an increased number of winery visitors from Grand Rapids, Lansing and the Detroit area. When Contessa first opened, less than one percent of the visitors were from the east side of the state. The Wine Trails concept, which promotes LMS wineries and tasting rooms, is the contributing factor to more Michiganders knowing what's in the southwest corner of their state.
Lake Michigan Shore AVA has become a destination for not only the water, but also for agritourism which is growing at warp speed in a major Michigan fruit belt. On Friday Road in Coloma, Mich., in addition to Contessa Wine Cellars, there are other agritourism-based businesses, complementary to a winery. For instance, Vineyards Gourmet, where wine-harmonizing foods, such as cheese and sausage plates, smoke salmon paté, lobster paté and Black Capelin caviar are available for purchase and can be delivered as picnic items direct to visitors who wish to picnic on the winery deck.
Bainbridge Bakery inside the Jollay Orchards and Farm Market attracts with more than the smell of its freshly-baked goods and Chocolate Garden's chocolate truffles make a sweet ending to any wine tasting. Notice please, we did not say that chocolate pairs well with wine. It doesn't. But it's a delicious finale on its own.
To the enthusiasm of locavores, the farm to fork movement in LMS is gaining traction at Fruit Acres Farm Market on Friday Road as well as the market at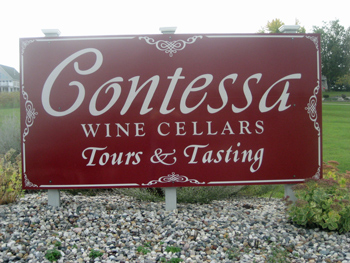 Jollay. As the real estate biz has always said, and three times to boot, location is everything. Visitors to Contessa can literally fill their basket with local wines, baked goods, produce and gourmet products. "Local businesses with diverse products create a draw for the winery," Peterson remarks.
Contessa's first crush was 500 cases made from contract growers' sourced grapes in 2001. The 2008 projection is 2,500 to 3,000 cases, still largely from contract growers. "We had to take small steps," Peterson explains, "in planting our own vineyard. Purchasing 25 acres and constructing the winery tapped out our savings. Having grower contacts through my father, I knew I was in a position of having sufficient grapes available. I was unwilling to get so far in debt that I had to sell 5,000 cases annually to pay the mortgage."
About 1,000 gallons are produced in the cellar at Contessa. The remainder is custom crushed and produced at Fenn Valley Vineyards (Fennville AVA). Tiny steps have grown to one-acre planted - one-half to Pinot Grigio and one-half to Merlot - on a projected estate vineyard of 10 acres. In 2009, two more acres will be planted, on the predominan