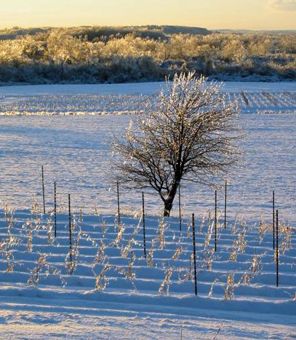 Arrowhead Spring Vineyard:
Winemaking Where the Niagara Falls
by Lenn Thompson
July 2, 2007
---
Lenn Thompson (LT):
What exactly is the Niagara Escarpment and isn't it too cold up there to grow quality wine grapes?
Duncan Ross (DR):
The Niagara Escarpment is an uplift of bedrock that runs parallel to Lake Ontario in Niagara County. It's about a 200-foot drop in elevation facing north, with slopes of one half to several miles long. The underlying rock is dolomitic limestone and - in our vineyard - we have springs where the hydrostatic pressure from the escarpment releases water. This results in a great mineral quality being imparted to the fruit, and wine.
The Niagara Escarpment also offers natural frost protection. Lake Ontario is a large heat sink and this powers wind towards the lake when the lake water is warmer than the air and away from the lake when it is cooler.
It's a maritime climate because the lake is so large. Moderate rainfall and more sunshine than any other major U.S. city in the northeast US contribute to the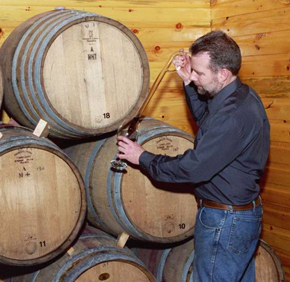 uniqueness of the escarpment for growing wine. We are the second warmest growing region in New York State.
Long Island
is the warmest.
LT:
When was the first winery founded in the region? And how many are there today?
DR:
In the 1970s, there were two wineries in Niagara County. For over twenty years after that, there weren't any new ones.
Five years ago, there were two wineries opened in Niagara County and the growth has been phenomenal since then. But there is a lot of room to grow and the demand is ahead of supply right now. Niagara Falls tourism will continue to drive growth in the local wine-tourism industry.
There are only a dozen wineries in Niagara County today, but there are about 100 wineries just across the river in Ontario. They are successfully growing
Merlot
,
Cabernet Sauvignon
,
Cabernet Franc
,
Syrah
,
Sauvignon Blanc
,
Chardonnay
,
Riesling
and
Pinot Gris
. A specialty they have been known for, icewine, is made from both Riesling or
Vidal
. As warm as the summers are, it does freeze every winter, making this region one of the few in the world that can produce traditional icewine every year.
LT:
What made you decide to start Arrowhead Springs?
DR:
As I said before, this has been a life-long dream. In 2002, a couple of things happened that caused my wife and I to think about where our lives were going and how we wanted to work and live.
Both of us had high-pressure careers and I had been laid off in a "reduction in work force" so we did what came naturally - we decided to do a "trial run" of what was a large amount of wine for amateurs.
That year we made three barrels of wine - Chardonnay, Pinot Noir and a Cabernet Sauvignon/Merlot/Cabernet Franc blend. All of the fruit was sourced in Niagara on the Lake in Ontario, Canada. We had a press, but needed tanks, a pump, barrels, hoses, etc. It was quite an investment but the wine turned out wonderfully. We found out how much work wine is at higher volumes and entered the wine in a few contests to get some objective opinions. During this time we added a lot of technical books to our wine library.
LT:
What varieties are you growing and what do you plan to specialize in?
DR:
We planted our vineyard in May of 2006, on Mother's day. We own 25 acres and have planted seven of them with Entav-certified clones and rootstock selected for specific growing and wine making qualities. We have Chardonnay, Merlot, Syrah, Cabernet Sauvignon, Cabernet Franc and one row of Malbec. We specialize in a red blends, primarily composed of the grapes we are growing. We also offer another blend, which is more of an everyday red wine.
In addition to the reds, we make icewine, Riesling and a barrel-aged Chardonnay.
LT:
In the vineyard, what are the challenges unique to your region and your specific location there?
DR:
The cold winters are our biggest challenge. While they offer the opportunity for traditionally made icewine, they harbor the danger of vine damage. To mitigate this, we hill up soil onto the vines above the graft, which helps prevent the total loss of a vine if temperatures get too low.
LT:
What other special vineyard techniques do you employ to battle the growing conditions?
DR:
We are using Scott-Henry trellis, rather than VSP. This trellis system allows greater light exposure to the leaves and fruit, and more air movement. For the varieties we are growing, this has been shown to increase quality.
We are gradually employing a bio-dynamic farming style. Hawks and other birds of prey that live in the escarpment at the South end of our farm patrol the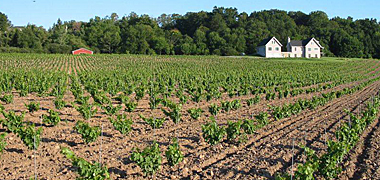 vineyard to eliminate bird pressure. Trees at the creek on the North end of our vineyard offer them a perch for surveying the vines. We have planted grasses between rows to prevent erosion and keep the soil healthy. The water that flows in springs beneath our hillside vineyard eliminates the need for irrigation.
We also get a lot of rainfall compared to places like Australia or California. To compensate for this rain, we installed drain tile down the center of each row—33,000 feet of tile in total. This ensures that the grapes won't get saturated in a rainy period. Add to this the plentiful sunshine in the summer and you have an ideal location for cool climate viticulture.
LT:
What variety/grape do you think will prove to be the 'best' on the Escarpment?
DR:
A lot of varieties do very well here. For reds, Merlot, Cabernet Franc, Syrah, Pinot Noir and Cabernet Sauvignon all do well. For whites, Chardonnay and Riesling truly express the terroir of the escarpment.
I am not a fan of varietal labeled wines. It worked for California in the 60s and 70s when they needed to differentiate themselves from places like France and Italy where the wines were labeled regionally.

READER FEEDBACK: To post your comments on this story, click here
Print this article  |  Email this article  |  More about Niagara Escarpment (NY)  |  More from Lenn Thompson