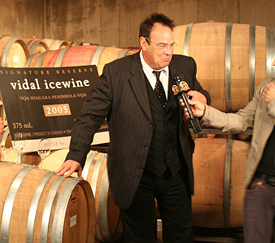 The Blues Brother Drinks Red and White:
Dan Aykroyd Builds a Canadian Winery
by Tony Aspler
July 10, 2007
---
T
he wine epiphany for Canadian film star-comedian Dan Aykroyd occurred in a Los Angeles night club in the early 1980s. The erstwhile Blues Brother, Ghostbuster and Conehead was the opening act for his 'Saturday Night Live' buddy, Steve Martin. That night his Blues

Brothers Band guitarist Steve Cropper opened a bottle of wine for him. "It was a big Napa Valley
Cabernet Sauvignon
," Aykroyd recalls, although he doesn't remember the winery or the vintage. "I changed my whole perception of what I wanted to taste for the rest of my life."
Until that Proustian moment, Aykroyd confesses that a big night out in his hometown Ottawa was a bottle of Mateus Rosé. "On our dinner table at home, my parents had Kressmann and big jugs of white Italian wine. My dad bought in volume. But actually my first taste of wine was Mogen David at a Seder."
Dan Aykroyd's ecumenical inclinations eventually led him to dry wines. "When I was an altar boy and served mass, I used to take a swig of the communion wine. It was always Chablis. The priest loved it."
Steve Cropper further expanded Aykroyd's vinous horizons by introducing him to Grand Cru Bordeaux, Super Tuscans and "those big, thick, yellow, velvety Corton-Charlemagnes." And this naturally led to collecting wines.
You might imagine that Dan Aykroyd, as a result, would have an extensive and diverse cellar; but after a summer of entertaining, he admits his cellar is empty, although he is hanging on to one bottle - a Château Trotenoy given to him by River Phoenix.
From a passion for wine, Aykroyd's business acumen led him to take an interest in the financial aspects of the industry. His company, House of Blues

Entertainment, owns ten nightclubs in North America which serve up Creole cuisine with every musical genre from rock-a-billy to rap.
In 2005, Aykroyd acquired the Canadian rights for the ultra-premium tequila, Patrón. The Canadian importing agent for this brand is Toronto-based
Diamond Estates
, a company that controls four wineries in the Niagara region –
EastDell Estates
,
Lakeview Cellars Estate Winery
,
Birchwood Estate Wines
and
Thomas & Vaughan Vintners
. Aykroyd sunk $1 million into Diamond Estates, saying at the time, "This is a sound investment in a growing and exciting company with smart people. It's also an investment in my home province and an opportunity to put more Canadian wines on shelves alongside Australian and Chilean vintages. I look forward to taking Canadian wines to the world through the House of Blues nightclub network and by promoting these products in other markets."
Over the next decade he plans to double the number of House of Blues in North America and Europe and to expand his product line in his company Alloy Brands to a rum, a coffee-based tequila liqueur "and possibly a beer and vodka which will have my twist in terms of its creativity ... maybe a Conehead bottle, I don't know."
Given his international celebrity status, it was perhaps a no-brainer that
Dan Aykroyd
should have his name on the label. "They asked me if I'd like to have my own wines, how good is that?" Just released in the Ontario market are two wines, a 2006
Chardonnay
and a 2005 Cabernet-
Merlot
blend, featuring the film star-comedian's Discovery Series label and priced at $14.95 and $16.95 respectively.
At the launch, Murray Marshall, the CEO of Diamond Estates announced that his company will break ground this autumn for the Dan Aykroyd Winery. This $12 million, 45,000 square foot facility will be built off the Queen Elizabeth Highway on the site currently occupied by Diamond Estate's Birchwood Estate property.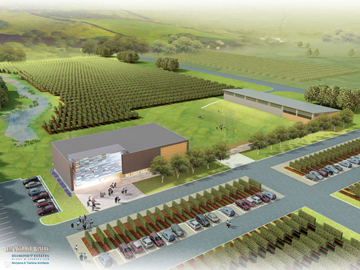 In addition to a range of popularly-priced wines under the Discovery Series label, the company will also release a Dan Aykroyd Signature Reserve series of up to 300 case lots priced at $50 a bottle and up. The first wine under this brand will be a barrel-fermented
Niagara Peninsula
Vidal
Icewine.
"If Canadian wine is known for anything at all, it's Icewine," says Aykroyd. "It's a great economic alternative to Yquem or a Sauternes or any of the other great dessert wines of France or Germany. You can get a Canadian Icewine for a fraction of the price and really, it's just as good in terms of sweetness and the velvety full flavour, the finish, the thickness of it. Of course, it will never be a Château d'Yquem, but this Vidal Icewine is going to be out there for under a hundred dollars. I'm not doing this for the ego of being in the wine business. I want the consumer to benefit from this. I'd like to get my kids out to harvest Icewine at 4 o'clock in the morning. They live in a penthouse in New York City," quipped Aykroyd.
The new winery, scheduled to be complete for the 2008 harvest will house Dan Aykroyd's film and TV memorabilia that he's collected over the years. Shades of Francis Ford Coppola.