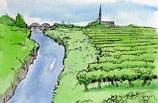 Once home to the third largest winery in the world, Hermann is again showing incredible promise as a world-class viticultural area. The Teutonic influences of this beautiful area extend beyond its rich history of German immigration; the area shares an almost identical climate and landscape with famous winemaking areas of southern and eastern Germany. Hermann has made its own mark, however, with several area wineries making incredible wine out of the native Norton grape and other labrusca, French hybrid, and even vinifera grapes.
          The Hermann appellation is nestled in a bend on the southern bank of the Missouri River about 80 miles west of St. Louis. The Hermann river floodplain contains alluvial deposits up to 30 feet deep with soils that are a mixture of silty loam and fertile loess. The area's varied topography - steep sandstone bluffs, rounded grassy hills, and fertile valleys - offers unique frost protection. Equally important is the air and water drainage provided by this rolling landscape which helps to stave off mildew by evacuating the high summer humidity.
          Old-world European charm and sophistication have found a home in the Hermann AVA and its wines.


~ Tim Pingelton, Missouri Editor

Bi-State Upper Hiwassee Highlands an AVA
By
Roger King
August 6, 2014
In the southern Blue Ridge Mountains of North Carolina and Georgia vineyards are small and few, yet the establishment of the Upper Hiwassee Highlands could bring much more.  [>] continue

Hermann, Cake, and the Noble Savage
By
Tim Pingelton
November 2, 2005
[>] see all Hermann features (1)

Remote Manton Valley New California AVA
By
Roger King
July 31, 2014

WAWGG Banquet Explores Washington State Terrior
By
Roger King
February 2, 2014

Taking Focus on Appellation
By
Clark Smith
December 9, 2013

Whitehall Lane Winery, A 20 Year Story of Vineyards
By
Roger King
July 15, 2013

Embracing Virginia's Terroir
By
Richard Leahy
June 2, 2013

Shake Ridge Ranch - Gem of the Sierra
By
Roger King
May 16, 2013