Monterey Hones Its Identity
Good value wines are its hallmark right now but smaller artisan wineries are garnering the region a reputation for high-end Pinots and Chardonnays.
by Laurie Daniel
September 17, 2008
---

n the 1970s, Monterey wines
were nearly synonymous with descriptors like "vegetal." Poor planting decisions and bad viticultural practices resulted in wines, particularly Cabernet Sauvignons, that were under-ripe and downright green. What a difference 30 years have made. Monterey County now has nine American Viticultural Areas, including the large Monterey AVA, and growers have been fine-tuning what grape varieties grow best in specific places.
Monterey County is big - approximately 3,300 square miles, or almost three times the size of Rhode Island - and the climate and soils are varied enough to allow vintners to grow a wide variety of grapes, from Albarino to Zinfandel. But
Chardonnay
leads the way; it's the wine that the county is best known for and it accounts for almost 40 percent of the county's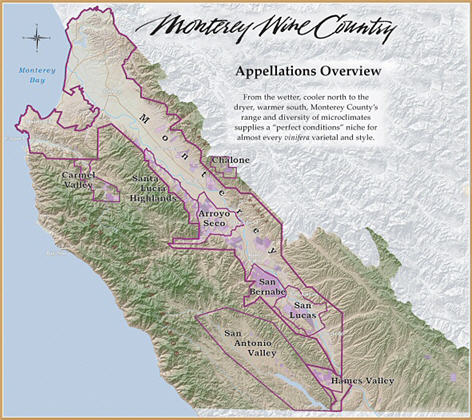 roughly 40,000 vineyard acres. Another cool climate grape,
Pinot Noir
, is making rapid strides, especially in the Santa Lucia Highlands sub AVA, on the western edge of the Salinas Valley.
Monterey is "definitely Pinot Noir- and Chardonnay-driven," says Steve McIntyre, founder and CEO of Monterey Pacific Inc., which farms 7,300 acres from Gonzales to just south of King City.
To understand the growing conditions in
Monterey County
, you have to start with Monterey Bay. Most of the county's AVAs are influenced by wind and fog off the cold waters of the bay. In general, vineyards to the north - which are closest to the bay - are the coldest and foggiest, and most appropriate for Chardonnay and Pinot Noir. Go too far north, and you can't ripen any sort of wine grape. But as you travel south, the fog burns off earlier, temperatures are warmer, and growers can successfully ripen even warmer-climate grapes. The influence of the bay also moderates the winters, resulting in early budbreak, which is followed by a long growing season.