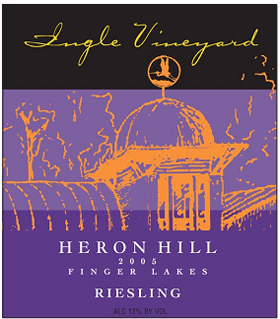 The Mysteries of the Finger Lakes Terroir
An in-depth interview with Heron Hill's Thomas Laszlo
by Lenn Thompson
April 6, 2009
---
Appellation America:
When someone asks you to define the terroir of the Finger Lakes, what do you tell them?
Thomas Laszlo
: If they are expecting a simple answer that conforms with what they already are thinking, I may talk about the cool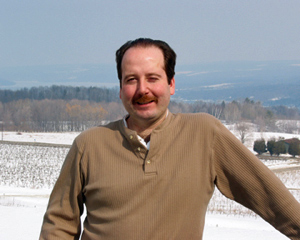 climate, young glacial till soils, and the moderated climate by surrounding bodies of water, etc. If they are well versed in the art of contemplating terroir, I would probably quote my buddy, Ernst Loosen, "There is no Mosel terroir. There are several different vineyards with several sub-sections within those vineyards and they are all farmed differently."
AA:
So Finger Lakes terroir doesn't exist?
TL
: The questions of terroir and its relevance to the Finger Lakes region cannot be answered at this time with any accuracy. Terroir in the European understanding is something that has been observed in a particular vineyard or sub-region for hundreds of years. With all the modern advances in oenology and viticulture, the classic definition of terroir may no longer be relevant.
AA:
You work with fruit from two different lakes. Do either of those locations show what is commonly thought of as terroir?
TL
: Ingle Vineyard (on Canandaigua Lake) and the Heron Hill Estate Vineyard (on Keuka Lake) do match many of the criteria for "classic" terroir definition. I can only begin to humbly approach their description because of the intimate knowledge I have with the grapes and their transformation into wine. The soil and climate of these two vineyards seem to produce replicable flavor and structural characteristics from vintage to vintage. The wines are made dry without a lot of intervention in the vineyard or the cellar.
AA:
Right now, there are three AVAs in your region: "Finger Lakes", "Seneca Lake" and "Cayuga Lake." What are the differences from the perspective of a winemaker? Do the physical differences show in the wines?
TL
: I am unqualified to speak with any kind of authority on the differences in geography, climate, geology, etc. With so many growers and winemakers on all the different lakes doing whatever they feel they need to do to sell the wine, the relevance of sub-AVA designation at this time is probably nothing.
For marketing purposes, it may help to sell a very specific product to a very specific consumer. If only "Cayuga Lake" appears on the bottle, it may suggest to a consumer who is not geographically proficient that the wine came from a lake called Cayuga that is located somewhere in the United States. They might even go vacationing on the lake called Cayuga in South Dakota!!
For now, our region should only try to establish the presence of the Finger Lakes in the wine market and it may even be helpful to have New York underneath it. It takes decades, if not centuries, to become a recognized area like Bordeaux, Mosel or Napa.
AA:
Because grapes are grown on Keuka Lake and on Canandaigua Lake, do those lakes deserve their own AVAs?
TL
: Let's not forget that the "Father of
Vinifera
" (Dr. Konstantin Frank) set up shop in 1962 on Keuka Lake. The grape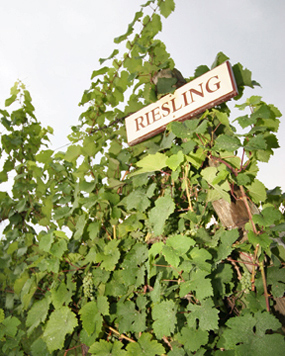 growing/winemaking history of the Finger Lakes starts in the village of Hammondsport at the south end of Keuka Lake. Pleasant Valley Wine Company is US Bond #1.
They were the first bonded winery in the United States. That doesn't mean that other wineries did not exist when they got the bond a century and a half ago.
So I would suggest if the meaning of sub-AVAs in the Finger Lakes is important to somebody, somewhere, then - hell, yeah!!!
AA:
Riesling is often deemed a 'transparent' grape because it reflects where it's grown so purely. Does Riesling show off the Finger Lakes terroir best?
TL
: Riesling is a delicate grape like Pinot Noir. Grown in too warm a climate in fertile soil, it becomes overtly fruity and loses any subtle mineral nuances. Grown in too cool a climate, it causes ulcers in the consumer because it tastes like concentrated lemon juice.
On Riesling's home turf, it is probably the only grape that can reflect all the little goodies that one can experience from a cool-climate white grape variety. On the other hand, I have had Chardonnay come pretty close to being "transparent" on particularly mineral driven soils but it worked because it smelled and tasted like Riesling. Yes, Riesling is the best grape for the Finger Lakes!
AA:
What other grapes display the Finger Lakes terroir well?
TL
: Instead of displaying "terroir," let's replace the term by talking about complexity of flavor and mineral notes that exist beyond the variety's standard fruit and structure profile. Pinot Noir, Chardonnay and maybe Chenin Blanc or Muscadet.
AA:
Why are Finger Lakes Rieslings the best being made in the United States?
TL
: Finger Lakes Rieslings are the best in the United States because that is how the public and the critics see it. That said, the classic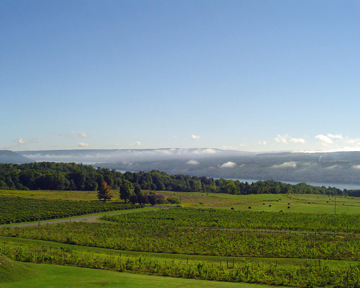 European textbook version of how Riesling should taste and age seems to occur more frequently in the Finger Lakes than anywhere else in North America. Plus a lot of our Rieslings are "stoned." They often show mineral "stony" notes in their profile.
AA:
What other grapes or wines do you think will help grow the region's reputation on the world wine stage?
TL
: For the time being, I am a staunch advocate for only having Riesling on the world's stage. Riesling is considered one of, if not the most, noble white variety known to man. Why mess around with anything inferior? On the local stage, many great whites and reds with personality are being made and sold. It would be nice to see the day when consumers think Riesling at the mention of Finger Lakes; just like Napa is Cabernet Sauvignon, Burgundy is Pinot Noir, Mendoza is Malbec, and Tokaj is Furmint.
AA:
There are some in the wine media who contend that red wines just don't work in the Finger Lakes. Do you agree?
TL
: There are some in the wine media who give scores in the high 90s for unfiltered reds that are microbiologically unstable and taste different every year, due to the silent proliferation of a spoilage yeast, Brettanomyces, that causes the wine to taste and smell like horseshit and wet dog. Beauty is in the eye of the beholder.

READER FEEDBACK: To post your comments on this story, click here
Print this article  |  Email this article  |  More about Finger Lakes  |  More from Lenn Thompson