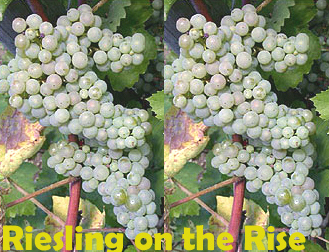 Riesling's Popularity on the Rise
The German grape's rise in popularity is finally getting traction in U.S. vineyards as the number of acres devoted to the white jewel gradually expands to meet the demand.
by Dan Berger
April 6, 2009
---

he latest statistics out of California
show that in 2008, grape growers crushed eight times as much Pinot Gris as they did in 1998. Meanwhile,
Riesling
tonnage was up a meager 55 percent. So it is clear that a lot of people are drinking Pinot Gris (or Grigio if you wish). Yet when you chat with wine makers, the story you get is remarkably different. In conversations with a number of wine makers over the last few weeks, I have heard the following comments, paraphrased and unattributed to protect the wine makers' jobs:
-- "Pinot Gris is a really lousy grape. It's hard to make, hard to grow, and it has tannins that you need to deal with. And then the result is a wine without any real character."
-- "I wish I didn't have to make Pinot Gris. It's just not a very interesting grape and the wine it makes is more like water than wine. But the marketing department wants it."
-- "I'd rather make Riesling, but we can't sell it."
The latter comment is the one that seems to be lurking in the nooks and crannies of many wine houses, many of them in California's vast central coast where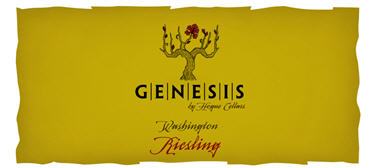 decades ago some of the state's most interesting Rieslings were made. But with only 15,400 tons crushed in California last year (2008), the grape variety remains well loved enough to warrant praise, but not rated as a money-maker. I am convinced that is changing even though the evidence I have is scant.
As a committed Riesling fan, I have chatted with numerous wine makers and growers over the last few years, and the message I got has been changing, slowly. Between 2000 and about 2004, the message was pretty much: "Forget it. Riesling hasn't got a chance." And starting about 2005, I began to hear, "I wish there was some Riesling fruit I could get my hands on."
Industry statistics show that Riesling is growing about 12 percent per year, but that is largely drawn from scanner data, which represents only about three bottles in 10 sold. When you factor in sales from tasting rooms, in restaurants and hotels/convention centers, and from fine wine shops, sales of Riesling could be a lot higher.
But without hard data, it's difficult to convince growers to tear out vines and replant Riesling. Clearly some are.
Trefethen Vineyards
in the
Napa Valley
, which has always made a great dry Riesling, has said it will add 12 acres to its plantings within the next year. Others are doing the same. Thus far, the moves are scattered and do not represent a trend. Yet.
And speaking of dry, more than 60,000 cases of Australian Rieslings, which are almost all entirely dry, sold here last year, compared with fewer than 2,000 cases in 1997.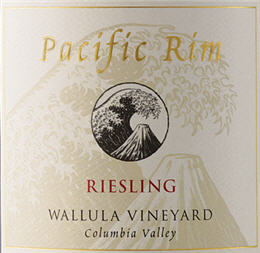 The leaders in Riesling production and sales in the United States are three
Washington
state producers,
Chateau Ste. Michelle
, with more than 1 million cases made in 2007, followed by
Hogue Cellars
and Randall Grahm's
Pacific Rim
project, which is looking at the possibility of approaching 200,000 cases of wine in 2009.
A dozen California wineries, led by
Monterey
producers Jekel, Ventana, and Mirassou, have all increased production of Riesling significantly since 2000. Fetzer, Kendall Jackson, Mondavi Family Selections, and a host of others have grown as well with California-designated wines.
Meanwhile, sales of New York, Michigan, and Ohio Rieslings are rising on a wave of high praise from wine critics. Also up are sales of all German and Alsace Rieslings. Even Austrian Riesling has become a sort of underground favorite. Even South Coast Winery from remote Temecula Valley is making Rieslings that are gaining attention.
Part of the reason this is happening is that the variety can make a great
wine at higher tonnages than you can get from other grapes. In the Napa Valley, for example, the average tonnage of Cabernet Sauvignon was 3.4 tons per acre in 2007. In Washington, the average size of the Riesling crop was more than 6.6 tons per acre. Moreover, when that fruit is made into wine, it is the simplest form of processing: fermentation in a stainless steel tank, then bottling. The wine can then be shipped to market within six months of the harvest date. No oak barrels, no at-winery cellaring needed. Compare that with the average for Cabernet Sauvignon of three years from the vintage before you can release the wine. And even then it's still too young to drink.
And finally there is the aesthetic. We are eating more seafood, Asian foods, spicy foods, fruit-based salads, sushi and sashimi, and Middle Eastern foods than ever. Dark red wines are hard matches here, but Riesling is an obviously fine choice. With its floral and spicy aromas, its acidity, and its wide taste acceptability and traces of sugar, Riesling ought to be the prime pick by everyone. And it is typically a lot lower in alcohol than are so many other wines. (One famed Viognier is well above 15 percent alcohol, and the vast majority of German Rieslings come in closer to 11 percent.)

Finally there is Riesling the dessert wine, a most seductive choice.
OK, so the evidence is scant, but it appears clear that Riesling is the next wine to become as hot as Merlot was in the mid-1990s and as hot as Pinot Noir has been recently.
---
Top photo by Chris Hawes, Bear River Vineyards