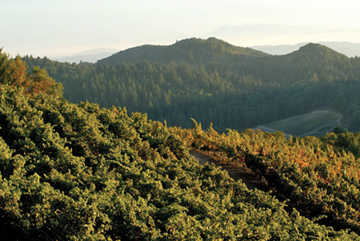 Mount Veeder ~ Napa Valley (AVA)
Will Malbec Find a Home in the Napa Valley?
At Hess Collection, they think so.
by Alan Goldfarb
May 13, 2009
---

N the Napa Valley, where Bordeaux blends rule
, Malbec is akin to Gummo, the forgotten fifth Marx brother. In fact, lowly
Malbec
is so overlooked by the nation's most important wine region, that in 2006, nine other red grape varietals held more sway, including Sangiovese.
But while the latter has become nearly non-existent in the
Napa Valley
as it's been determined that the grape doesn't do well there, Malbec's fortunes seem to be on the rise. Thanks primarily to the success of Argentine Malbecs, which have fast become the best value wines in the world, not only for their low prices, but for their quality. In France, there is also a resurgence, to a lesser degree, from the French Cahors region where the grape is known as
Auxerrois
. In California, the variety is beginning to gain a foothold, albeit still small.
According to the California grape crush report of 2008, there were 1,469 acres of Malbec planted, which represents a seven-fold increase from 1994. Most of the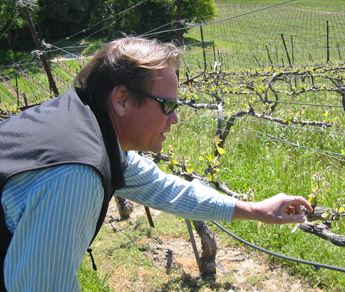 acreage (333 acres) was in the northern San Joaquin Valley and in Sacramento County, followed by 328 acres planted in the Napa Valley and the 253 put into the ground in Sonoma County.
That development might be attributed in no small part to
Dave Guffy
, the winemaker at the
Hess Collection
winery. Since 2001, Guffy has been regrafting (rather than replanting) Malbec onto Cabernet Sauvignon and Merlot vines (some of which are 28 years old), mostly at the 2,000-foot elevation on Hess' Summit vineyard in the southern end of
Mount Veeder
on the Napa Valley's west side.
To date, Guffy has about 50 acres of Malbec with another 50 due to be put in place over the next couple of years as part of a $30 million investment (which also includes a new tank area at the winery).
That's a lot of money, especially in the current economic climate. But at Hess, where Guffy says owner Donald Hess taught him, "Never to do anything in the short-term that would affect the long-term," the winery is "unaffected" by money issues.
Currently, Hess blends Malbec into its Mount Veeder Cabernet and its 19 Block Mount Veeder red blend. But it also produces a stand-alone, 100 percent Malbec as part of its Small Block Series, from its Veeder Crest vineyards.
Longtime wine veteran Tom Selfridge, Hess's president who is retiring in July, says the reason why he approves of Guffy's Malbec love affair, is that "it's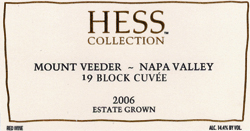 extremely important to always reinvent yourself, especially for a winery that has been around as long as we have (since 1976) … We're trying to be fresh."
But for Guffy, who insists that Cabernet is still Hess's focus, "Malbec has certainly gotten our attention." The winemaker, who spends much of his days "walking the vines", believes that Malbec can be viable now in the Napa Valley and other California regions such as the Santa Ynez Valley and the Dry Creek area of Sonoma. That's because of new clones with which he's been working in deference to past clones that did not work and which subsequently turned Californians off to the variety.
"Ten years ago we didn't have a choice (of clones). There were only two," he claims. "… For the last few years I've had access to better clones (595 and 9, which yield three tons per acre) from France (that he believes are from Cahors in France's southwest), which have a nice impact (for stand-alone wines)."
Selfridge, who used to be at Kendall-Jackson from 1990 to '97, points out that KJ made a bit of Malbec but "People had such bad experiences with the old clones, they said, 'Forget about it." At KJ, it (yielded) a very low crop and "it didn't make a great wine".
When Guffy arrived at Hess 10 years ago, there were only five acres of Malbec. So, "I looked around Mount Veeder and thought some of the areas weren't appropriate for Cabernet."
That statement would be blasphemous in most circles in the Napa Valley, but Guffy concluded that the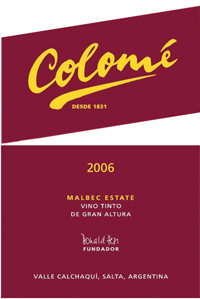 climatic conditions in parts of his vineyard were a little too cool and shady for Cab. At 2,000 feet, the sites he chose for Malbec are above the fog line, and receive about 50 inches of rain a year.
But elevation, despite what they believe in Argentina, is not the whole story for Napa Valley Malbec, according to Guffy. He has not been to Argentina and says that the fact that Hess' own vineyards for its Bodega Colomé in the Salta region - which are from 7,200 to almost 10,000 feet and believed to be the highest in the world - had no influence on his decision to go with Malbec.
"I don't know Argentina and I don't think (its elevation) is applicable," he says. "… It's not just the elevation. It's what the elevation brings. It's the condition of elevation … In Napa, we have a clearer aspect to the (San Francisco) Bay (whereas Argentina's vineyards are blocked from the Pacific Ocean by a literal wall that is the Andes Mountains), which brings in cool weather … but it also brings in warmer weather in winter. The climatic influence, that's what is making the difference."
However, he acknowledges that Argentina has done "a good job of marketing" Malbec, so I think it makes us (want to grow) Malbec in Napa, which will "make us unique".
"What drew us to Malbec was living and breathing (this) mountain, the nature of this varietal and thinking that it would have a home up here. As it turns out, we were right."
Both Selfridge and Guffy believe that their plantings of Malbec represent the largest in the Napa Valley and that, according to the winemaker, "We are a few years ahead of our time" and that "there will be more interest" in Malbec. He thinks that Atlas Peak and the Coombsville area on the valley's east side would also do well with Malbec.
He likes the color of the grape and the idea that it "elevates the mid-palate" and has "smooth" tannins, although the stand-alone Hess Malbec that this reporter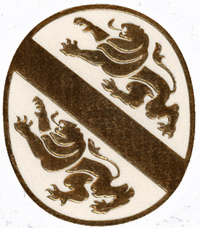 tasted recently, had definitively rougher tannins, reminiscent of Malbecs from Cahors; and needs a few years to mellow. Nonetheless, Guffy says that Malbec is the "sleeper" Bordeaux varietal, and it "fits hand and glove for our wines, otherwise we wouldn't be so bullish on it."
He says that if California is going to have any chance wi