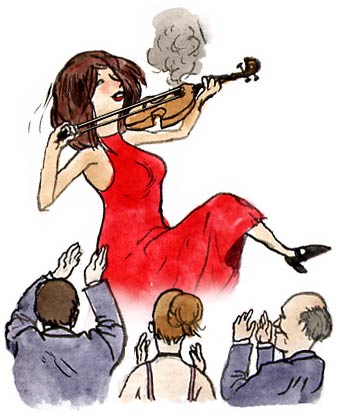 Primitivo
Signorina Primitivo, in the arid flat lands of Apulia you played violin in the Italian Symphony. But since childhood, you dreamed of performing solo, hoping your talents would someday lead you to America where stardom awaited. While dreary of playing 'second fiddle' to your zesty brother, Zinfandel, and his New World legacy, you were more staid than your flamboyant sibling, never wanting America to take you lightly, dressing you in pink. Yet you desired more from life than just a minor player in a vast orchestra. You wanted to stand alone as an enigma! At last you are proving that your chords are explosive and the notes from your bow are passionate and spicy. Your violin, resting on full breasts, smokes with allegros that are feral and succulent like wild berries, erupting into a crescendo that is heady and exhilarating. Signorina Primitivo, we give you a standing ovation!


Varietal Character by Catie McIntyre Walker, the Wild Walla Walla Wine Woman
Appellations Growing Primitivo Grapes
Appellations producing the most Primitivo wines:
Primitivo (aka. Zingarello)

Also known also as Zingarello, this red grape is mainly grown in Apulia, southern Italy, where it makes a heavy, strong wine, often with the alcoholic potency of port. DNA testing has confirmed that Primitivo is genetically related to California's Zinfandel.

Historically, in Italy Primitivo was employed to add heft to reds from northern regions. However, its potential as a single varietal, rather than merely a blending component, is starting to be acknowledged, at home in Italy, and abroad in New World regions.

Santa Cruz Mountains
Zin in Santa Cruz Mountains
By
Laura Ness