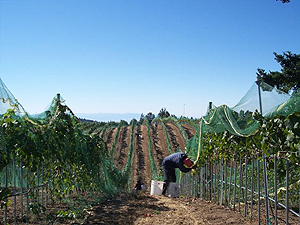 Zin in Santa Cruz Mountains
The cool climate favors Pinot Noir yet the few Zins that hail from this AVA are worthy contenders.
by Laura Ness
January 24, 2007
---
The
Santa Cruz Mountains
would not bubble to the top of the heap when you say
Zinfandel
. In fact, most of the wineries who make Zin in this region source it from elsewhere.
Still, you can find some fine examples of what this region can produce in Zinfandel. In general, the cool climate and long growing season of this appellation really test the grower's patience, but the resulting wines tend to be elegant, lower in alcohol than those from Amador, Paso and Lodi, and reveal their very peppery personalities a lot more as well. Let's take a look at who's making Zin in the Santa Cruz Mountains and what they're saying about it.
Michael Muccigrosso of
Muccigrosso Vineyards
lives basically next door to me, in the vertically challenging mountains off Bear Creek Road. There are days when it feels like Zin weather here, with temps well above 100, but there are far more days and nights when it is downright chilly, and sometimes even frosty.
Michael and Lynn Muccigrosso planted Zin and Cab here, back in the 1980s. Like most newbies to viticulture, they planted what they liked to drink and screw the consequences.Their 2-acre dry-farmed Zin vineyard yielded about 1.5 tons in 2006. Michael sources Zin from other areas in Santa Clara and Portola valley to create a very highly acclaimed wine called Lyn Zin. He says the Santa Cruz Mountains estate fruit is very jammy, with dark flavors and a great mouthfeel. The sold-out 2003 has to be one of my favorites of all Zinfandels, filled with nicely ripe but not sweet fruit, great pepperiness and characterized by a poise and finesse which is rare for this varietal.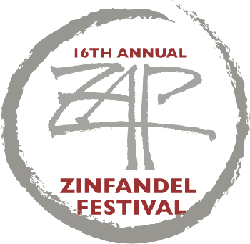 Matt Oettinger of
Fernwood Cellars
has been making an estate Zin from his property in the Redwood Retreat area in the southern part of the appellation since 2001. He says, "We've always been happy with it and the 2002 won "Best Red of the Santa Cruz Mountains" at the appellation competition. Our vines are all head-trained and typically, they result in a wine which lends itself towards black pepper and allspice. Quite tannic, it usually needs a few years of cellaring time to fully achieve its greatness. We also make an
El Dorado
Zinfandel from my father's vineyard in Placerville. It tends to be jammy and fruit forward, with very little spice and not much tannin.
Tony Craig, winemaker at
Savannah-Chanelle
in Saratoga, has the great fortune of being able to work with a classic, old-style, head-trained Zin vineyard, which was originally planted in 1910. As he notes: "Santa Cruz Mountains Zins have that wonderful black pepper spice that you used to see in most Zins in CA, but rarely see anymore. This is especially true of the Savannah-Chanelle Zin. Probably because it is on its own rootstock and has never been heat-treated.
"If I recall correctly, I remember a conversation about this while I was at David Bruce. Apparently most vine cuttings today go through some kind of heat treatment to kill off any viruses prior to planting. This is how most nurseries verify that their cuttings are virus free. This results in lower spicy characteristics in the finished wine. Some folks seem to think that it enhances fruitiness. If all of this is true -- and it bears some investigation -- I would rather see a Zin with all of its inherent aroma/flavor profile. To do something to a vine which diminishes one character and enhances another is okay if you are trying to get rid of a problem, but if it results in a simple fruity wine which is one-dimensional... I'd rather take my chances with a vine source that is naturally clean and not do the heat treatment. Which may be easier said than done today."
There are not many acres in the mountains planted to Zin, but it appears Savannah-Chanelle may have one of the larger plantings. Tony told me, "I do not know for sure how many acres there are in the mountains, but we have five or so acres which yield about one to 1.5 tons per acre. The vines range from being 35 to 100 years old and most are on their way out. Nothing lives forever.
"The natural acidity of Zin plus the acidic nature of the soil at Savannah-Chanelle, creates Zins with amazing ageing potential. Also, it creates a winemaking issue, in that I have to be careful when to pick; sugar content is only a small part of the story. If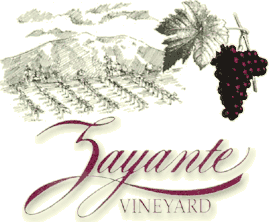 I pick when most folks would, i.e. at 24 – 25 Brix, the acid would be so high in the wine that it would rip the enamel off your teeth. Consequently, I have to pick it much riper than I would typically pick any other varietal, and this, of course, creates a rich, bold, fruity and spicy wine. By chance, this is also the preferred style that most Zin drinkers seem to want these days." He ages the Zin in both American and Hungarian oak.
Greg Nolten of
Zayante Vineyards
has been growing and making Zin for over two decades. He has about 4 acres of Zin planted (Mendocino and Ricetti clones, as well as cuttings from the Pichetti vineyard in Cupertino) and wants to plant more. His yields are about 3 to 3.5 tons per acre, which is decent for this mountainous area. He notes that Zin is fairly easy to grow in that it tends to ripen evenly.
Greg's Zin is characterized by earthy aromas of plum and strawberry jam. The Pichetti clone tends to produce intense raspberry flavors and the Mendocino clone provides the intense plum flavors. The wines always have a distinctive core of acidity, accentuated by racy black pepper spice which makes them excellent with food.
Greg sells fruit to Ryan Beauregard of
Beauregard Cellars
, who likes to let the fruit hang longer than Greg would, and it yields a much headier wine. He says that Ryan's motto is "I want to give people their money's worth!" Greg also sold Zin to Storrs in 2005. At 14.6% alcohol, the 2004 Zayante Zin is only $14, which makes it a buck a percent. That's serious bang for the buck! And it tastes good, too.
"I love Zin!" proclaims Ryan Beauregard. "The high acidity and longer hang time makes for really slow berry development and an intensity that could only come from mountain fruit. It's fantastic!"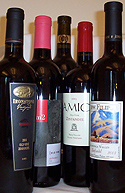 Explore the diversity of Zinfandel with Appellation America!

Regionally distinctive Zins from close to 20 different appellations now available in the Appellation America online wine store.
He makes more different styles of Zins and more of them than anyone else in the appellation. He recently replanted the Beau