Sierra Foothills Wines
Make Their Mark
APPELLATION AMERICA's Best-of-Appellation Regional Evaluation Program recently focused its attention on the wines of the Sierra Foothills. Several days of in depth tastings and analysis revealed the great breadth of Foothills wines.
by Jean Deitz Sexton
May 16, 2008
---

mong the granite
outcroppings and rocky soils of the Sierra Nevada foothills, a merry band of veteran and young winemakers are coaxing remarkable wines out of the unforgiving land. The individualistic, sometimes quirky, but always interesting styles of Foothills winemakers came to the forefront in March and April when
APPELLATION AMERICA's
Best-Of-Appellation Program chose the
Sierra Foothills
appellations as its first focal region.
Over the course of three days, teams of wine experts blind tasted and discussed the wines of El Dorado, Amador, Calaveras, North Yuba, Sierra Foothills, Fair Play, Fiddletown and Shenandoah Valley. The teams were composed of
APPELLATION AMERICA
senior editors, joined by representative industry professionals who had been nominated by regional associations in Amador and El Dorado County.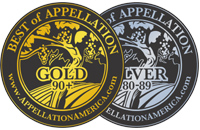 Although the Best-Of-Appellation Program is primarily aimed at generating a better understanding of the regions themselves, the Program does award medals to individual wines which best express regional character and high quality. Wines are scored analytically on four dimensions (Appearance, Smell, Flavor and Balance); those scoring 80-89 points are awarded Silver Medals, and 90+ points rates a Gold. Most importantly, the award winning wines are elevated to the Best-of-Appellation Wine Lists for their appellations, there to act as markers of regional quality and, in some cases, pointers for future development of regional signatures.
As was expected from the Foothills, the preponderance of entries and medals awarded were in the red varietal categories: Zinfandel, Syrah, Cabernet Franc, Sangiovese, Barbera, Petite Sirah and Cabernet Sauvignon. The Sierra's 800 pound guerrilla, Zinfandel, showed that it was still the signature variety of Amador and Shenandoah Valley, capturing 8 gold and 11 silver medals.
Rhone varietals showed well also, indicating that the Foothills can choose to make a unique statement in Rhone reds rather than duplicating the Cab-Merlot-Chard axis of other regions. Syrah wines from eleven different producers won 2 gold and 11 silver medals. Petite Sirah, a sleeper from the Sierra past, made its claim to a piece of the Rhone vogue, with three gold medals offered by three different producers for the varietal.
White wines were relatively scarce in this initial Best-of-Appellation exploration for regionality in Sierra wines, but there were gold medal winners for Riesling and Muscat and a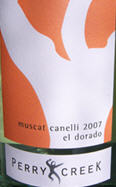 sprinkling of silver medals for Muscat, Pinot Grigio, Sauvignon Blanc and Chardonnay. The Foothills, however, does an outstanding job on one white Rhone varietal, Viognier, and that was evidenced in the two gold and two silver medals awarded to Viogniers sourced from Amador, El Dorado, and the broader Sierra Foothills AVAs.
All the Evaluators commented on the diversity of styles, ranging from veteran producers such as Ironstone Vineyards and Milliarie (Calaveras AVA) and Madrona Vineyards (El Dorado AVA), as well as up and coming wineries such as C.G. Di Arie (Shenandoah Valley and El Dorado), Pilot Peak Winery in Penn Valley (Sierra Foothills AVA) and Montoliva Vineyard and Winery in Chicago Park (Nevada County).
Cabernet Franc Variations
One of the most exciting varietal winners was Cabernet Franc, more or less a blending grape in the Bordeaux-patterned regions of California, but capable of offering a fine single varietal expression across the Sierra appellations. Judges awarded two golds and one silver for Cabernet Franc.
The Sierra Foothills evaluation was on the lookout for the expression of terroir and regionally distinct viticultural practices in all the wines. The award winners for Cabernet Franc offer an opportunity to look at how three different appellations can affect one varietal.

It's not surprising that Ironstone Vineyards captured a gold medal for its
2005 Ironstone Cabernet Franc Reserve
($28), a blend of 81% Cabernet Franc, 14% Cabernet Sauvignon and 5% Merlot. Steve Kautz and his family are the largest growers of Cabernet Franc in the United States, farming a total of 450 acres of the varietal in Lodi and the Sierra Foothills. They produce 40,000 cases of Cabernet Franc under the
Ironstone Vineyards
label. Kautz sees a uniqueness in Calaveras-grown Cabernet Franc. "My Cab Franc grows in shallow soil almost on a quartz outcropping, at 2,480 feet elevation, and exhibits none of the typical vegetal characteristics," Kautz says. "That rich aroma of blackberries at the end of the season, I don't see in Cab Franc anywhere else." In the middle of the palate, Kautz says you get classic blueberry and cassis notes. "It has the depth and structure of a Cabernet Sauvignon yet it is not overly tannic, and has 13.5% alcohol."
Perhaps a deeper, earthier, yet fruit forward expression of Cabernet Franc is
Pilot Peak
's gold medal winner, the
2006 Pilot Peak Cabernet Franc
($25), a 100% varietal wine.
APPELLATION AMERICA
's evaluators described the wine as having an "inviting nose with dark fruit and tobacco notes……dark, rich, spicy, and cedar flavors……… good acidity, good balance…..and a long finish." Lynn Wilson, winemaker and co-owner of Pilot Peak with his wife Jacque, says the wine is a 50-50 blend of grapes from the Naggiar and Pendagio vineyards in Nevada County.
Wilson describes the wine as a medium-bodied, mellow Cabernet Franc, with violets on the nose, a hint of cocoa and lavender, with plum and red berries on the mid palate. Wilson does not co-ferment grapes from the two vineyards. He prefers to ferment separately, with open top fermentation lasting five to eight days, and using hand punch downs. "I don't like overly extracted, over oaked, overmanipulated wines," says Wilson. "I like to have the fruit, the acids, the alcohol and the residual sugars balance each other." He uses a combination of used and new French, American and Hungarian oak barrels.
Mike Naggiar, a Grass Valley grower who farms 62 acres of grapes, supplies a number of varietals to Pilot Peak, Elyse Winery in the Napa Valley, Orin Swift in Rutherford for its "The Prisoner" wine, and other wineries. He says Cabernet Franc loves heat, owing to its Southern France origin, and does well in Foothills conditions where sunlight can be intense and hot. He farms at 1,300-feet elevation in rocky soils.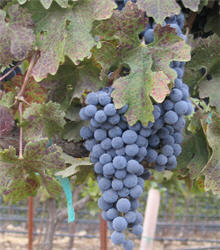 "We have a clone 337 that produces about four tons to the acre," says Naggiar. To avoid the grassy, vegetal char

READER FEEDBACK: To post your comments on this story, click here
Print this article  |  Email this article  |  More about Sierra Foothills  |  More from Jean Deitz Sexton