Temecula Valley:
The Southland is on the Rise Again
Temecula Valley produces some of the best wines in California. Yes, the little valley near San Diego is giving Napa Valley a run for its money - at least in the awards division.
by Clark Smith
August 24, 2009
---
As the California State Fair announced its Varietal Best of Class and Sweepstakes Best of Show awards for 2009, not a single Napa wine was listed. What region garnered the most medals? That would be the Temecula Valley. A secret renaissance is taking place among the thirty-nine producers who call "land of the Rainbow Gap" home. Time to write the sequel to the well known tale of Eli Callaway's 1969 gamble, which improbably established this ocean-cooled high desert as a tourist Mecca and affordable white wine source
.

s unlikely a place for premium wine production
as one could imagine, this high plain of
Temecula Valley
within spitting distance of Mexico owes its fortunes to the natural daily air conditioning which occurs when hot air rising off Palm Desert to the east sucks cool Pacific breezes through the Marguerita and Deluz Passes in the coastal mountains, bathing the 1,100 foot Valley floor in moderating temperatures which preserve acidity and prevent fruity aromas from boiling off.
At the time, land in this remote corner was cheap, and the Valley floor's loamy decomposed granites were perfect for soft, easy drinking wines with flowery aromatics and palate finesse. Coastal quality at Central Valley economies, together with proximity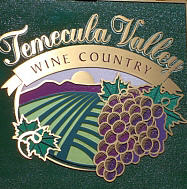 to the large Southern California marketplace, afforded a huge competitive edge, and the profitable tasting room sales bolstered the prospects of small winery neighbors, who sprouted by the dozens.
It was realized early on that the region was poorly suited to blockbuster chards, but because mature fruit aromas emerge early, the region's strength is in delicate, moderate alcohol wines with good acidity.
Callaway's
prosperity attracted some twenty other wineries and millions of tourists annually, while large volumes of Calla-lees , a yeast-aged stainless chardonnay, dominated the L.A. grocery shelves of the '80's at affordable prices. But a decade later, this success contained the seeds of its own demise.
Temecula's popularity as a respite from the heat, smog and rat race of the Los Angeles Basin bred a new threat -- urban encroachment. Some of the tourists decided to put down roots of their own, driving up land prices, thus leveling the economic playing field with the likes of Sonoma. The days of affordable whites were drawing to a close. Then in the '90's, almost half the acreage was wiped out by Pierce's disease, and a quarantine requiring all grapes in the region to be juiced locally put an instant kibosh on grape sales to the North Coast. It looked like Callaway's dream was a flash in the pan.
But these disasters had their own silver lining. Like the Allied bombing of Germany, which razed antiquated structures and cleared the way for the post-WWII industrial boom, the duel scourges of housing development and Pierce's forced replanting the Valley floor to more suitable varietals and improved trellising systems. Cabernet Sauvignon and Merlot were replaced by Syrah, Grenache and other Rhone varietals, and by Sangiovese, Zinfandel, Tempranillo and (of all things) Cabernet Franc, all of which had been shown to do well.
Both geographically and economically, local winemakers were forced to higher country. They needed to find land where vineyards made more sense than houses. They also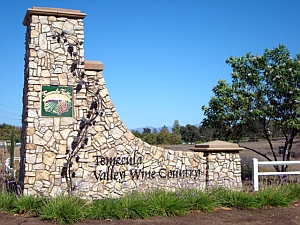 needed to move up the price ladder, to play to win with the big dogs in the ultra-premium segments above $20. These two movements turned out to be wonderfully synergistic.
Rocky, inaccessible ridge tops at 2500 feet that would never have made sense for cheap chardonnay turned out to be just the thing for serious reds, particularly Rhone and Italian varietals. Even as Callaway's new owners, Allied Domecq, sold 300 Valley floor acres to developers, pioneer
South Coast Winery
established Wild Horse Peak as a preeminent spot for Syrah and Sangiovese. Here the combination of bright UV and alluvial washes of volcanic ash on granite bedrock result in intense color and very hard tannins, perfect for world class styles if handled with skill.
Straight Shootin' Son of a Gun
We signed up Jon McPherson, the lanky, carrot top winemaker for South Coast, as our Regional Advocate. Despite his cowboy West Texas drawl and aw-shucks demeanor, this twenty-four year fixture in Temecula has earned wide respect for his ability to put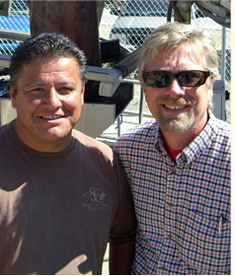 wines in the bottle which garner acclaim for the region through consistently excellent performances in competitions. McPherson used to be universally referred to as Jonny Mac. Now they call him Jonny Back-to-Back, because for the last two years in a row, his was proclaimed Golden State Winery of the Year by the California State Fair.
"After four decades, Temecula has now moved beyond the experimental stage," says McPherson. "We've dialed in what grows best where, and we've developed the styles we want to be known for. We are striving now to be consistent vintage to vintage."
If McPherson's wines seem over-represented in our
Best-of-Appellation
™ list, it's only because their overall quality gave our panel no choice. But Jonny isn't Temecula's only superstar, as witness Joe Hart's Double Gold sweep for every wine he submitted. And the great showing across the board for Sangiovese, Zinfandel, Tempranillo and Cab Franc is enough to convince any skeptic of the region's value for these varietals.
The Envelope, Please…
Sauvignon Blanc
is a natural for the area, exhibiting perfumey rose and grapefruit/lime aromas with complex elements of herbal nettle and tarragon, and managing in the mouth to be both delicate and lush by virtue of surprisingly good acidity. In the
Fresh Style
we selected:
Falkner Winery Sauvignon Blanc Estate 2007
Hart Winery Sauvignon Blanc 2008
Keyways Sauvignon Blanc 2008
In the Oaked Fumé Style, toasted almond, smoke and vanilla are added to this aromatic profile and the mouth is richer and rounder:
Briar Rose Winery Fumé Blanc 2008
Viognier
is one of the State's most charming examples, with great acidity and never hot or cloying. One can look forward to very complex aromatics: rosewater, white peach, green olive, honey, brown sugar, coriander, lavender, summer rain petrichor, aromatic cedar.
Wilson C

READER FEEDBACK: To post your comments on this story, click here
Print this article  |  Email this article  |  More about Temecula Valley  |  More from Clark Smith