Iowa: It's Not Only Corn.
It's Wine, Too.
Yes, Iowa.
For our Best-of-Appellation™ tastings, the Iowa wines came to us. But, to get a first hand look at the wineries and their production, we sent regional correspondent Tim Pingleton traipsing through the winter snow to get a sample of what Iowa locals enjoy.
by Tim Pingelton
March 19, 2009
---

ine grape growing and winemaking in Iowa
are in a state of flux. Best practices regarding what to plant, how to tend the vines, how to make the grapes into wine, and how to market the wine are as yet uncertain. There are perhaps as many predictions about the image of the Iowa wine industry as there are wineries in the state (over 70 and counting).
One useful way to go about testing predictions is to dust off the high school science book and apply The Scientific Method. This is a 4 step process: (1) observe phenomenon, (2) formulate hypothesis to explain phenomenon, (3) predict results of new observations, and (4) test predictions. The Scientific Method will now be used on a small sampling of wineries from central Iowa. Steps #1 and #2 will be disregarded, in part to annoy high school science

teachers. The general phenomenon of entrepreneurs with a desire to make good wine is readily evident in the state, as is the hypothesis that they want to do that to earn a living and have fun. Thus, the focus here will be on deducing a prediction about the future of Iowa winemaking.
The
Madison County Winery
production facility is not open to the public, but work is underway for a tasting facility to showcase their fine wines and tranquil sloping vineyard views. Yes, this is the land of covered bridges and rural beauty. Owner Douglas Bakker, a man of seemingly boundless energy and innovation, brings in California varietals to blend with wines made from Iowa grapes. The results are surprising and excellent. He produces about 3500 gallons of high-quality wine annually and has plans to expand his four plus acres of grapes.
The 2007 "Prairie Fire," an equal blending of California Cabernet Sauvignon and Iowa Cynthiana is a very nice wine. Cabernet juiciness seems to buoy Cynthiana's native leather and coffee tones. This is an open, non-aggressive blend that easily pairs with a wide range of meat entrées. Prairie Fire's white blend equivalent is "Hawkeye Gold," a Chardonnay/Vignoles blend. Doug has planted a lot of Vignoles, and he knows how to work the grape. The lactic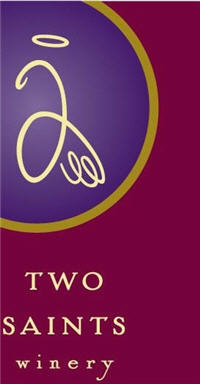 Chardonnay adds friendly support to the crisp, fruity Vignoles, creating a gauzy mouthfeel. These two wines alone offer a glimpse into the possible future of Iowa winemaking, but the research cannot end there.
Based on the high quality of wines produced and the grounded ambition of owner Doug Bakker, the prediction is that Madison County Winery's innovation will lead to future successes in winning devotees of Iowa wine. Both sales in current grocery stores and, in the future, at the winery itself will increase.
Two Saints Winery
is named after its two neighboring towns, St. Charles and St. Marys. An excerpt from their advertising copy says it all: "We are proud to use our Iowa grapes to create quality Iowa wines without the influence from grapes or juices outside of Iowa." 2 Saints has 10 acres of grapes planted and produces about 6000 gallons of wine annually. Their tasting room is modest yet comfortable, not unlike a tidy, updated farmhouse.
Most of Two Saints' offerings are cold-hardy varietals such as La Crosse, Leon Millot, St. Vincent, and Frontenac. Their most popular wine, however, is Trinity Red, an accidental blend of Noiret, Edelweiss, and Espirit grapes. The result is a semi-sweet red with sensory impressions encompassing the upper-Midwest: earthiness, slight herbaceousness, and dark berry/cherry tones.
Based on increases in production volume and quality since their founding in 2003, the prediction is that Two Saints Winery's focus on "Native Iowa" (a term used by the Alcoholic Beverages Division to denote wine made from only Iowa grapes) will continue to be a good sales strategy.
Originally founded as the Iowa Wine Cooperative in 2002,
Southern Hills Winery
also uses all Iowa grapes in producing their 10 blends. Winemaker Lucas McIntire and Events Coordinator Lisa Springer offer easily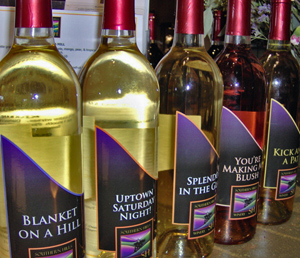 accessible blends popular with locals, through many fun events at the winery and at festivals through the state. Unique to Iowa, Southern Hills has two satellite tasting rooms, both in the Des Moines area.
A Vidal Blanc, Diamond, and Brianna blend, Splendor in the Glass is their most popular white wine. It carries a fruity, green grape nose, and the taste impression is smooth with a mild flinty finish. Outback Zac, their most popular red, fools the tongue into perceiving strawberry additives where there are none. The nose reveals a hint of oak. At cellar temperature, this Ives/Chancellor/Chambourcin blend is a winner. The Traminette varietal "Blanket on a Hill" is off-dry and light-bodied with a lively acidic zip at the finish. Lucas fermented this one cool and slow to preserve citrus fruitiness and a light golden hue.
Lucas currently produces about 10,000 gallons of wine annually, but the cellars have the capacity for about twice that volume. The predicted results of Lucas' winemaking trajectory and Lisa's marketing strategies are that Southern Hills Winery will continue to appeal to its base demographic of locals as well as spread to those outside the Iowa wine cognoscenti.
According to Max Brewbaker, one of four owners of
White Oak Vineyards
, "The goal is to make Iowa wines something special." With this in mind, winemaker Mike Epps presents varietal and blending trials to the owners, who must come to a census agreement before the wine is put into production. Nine acres of Marechel Foch, St. Croix, La Crescent, and Frontenac grapes are planted on the extensive grounds, with a production of about 8000 gallons annually.
The customer favorite at White Oak varies by season; their semi-sweet Country Road Red (a French/American hybrid blend) might outsell the others in cool weather, and their Summer Breeze (a native American white) might lead in warmer months. Country Road Red is dressed-down without being frumpy; it has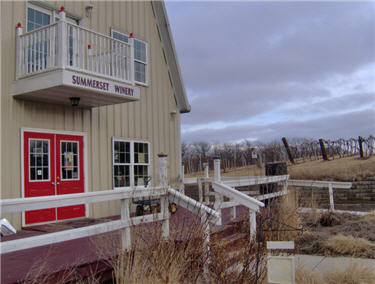 the freshness and solidity of the White Oak property itself. Summer Breeze is fun and crisp without being frivolous. Both wines offer comforting, familiar sensations to the Midwest palate and should be experienced by those unfamiliar with cold-hardy grapes.
Summerset Winery
, Iowa's largest, has 13 acres of grapes planted on the grounds and produces over 30,000 gallons of wine annually. Owner Ron Mark explains the phenomenon of his winery's popularity succinctly: "I want to make the best wine we reasonably can and share it with friends." An Iowa native, Ron does

READER FEEDBACK: To post your comments on this story, click here
Print this article  |  Email this article  |  More about Iowa  |  More from Tim Pingelton