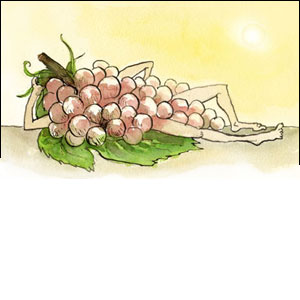 Cabernet Pfeffer | Gros Verdot
You might be part of DeRose Vineyards ensemble known as Hollywood Red, but your act seems to be a little more vaudeville than big production material. Truth be told, you have been toiling the small stages of California for more than a century without producing a label with mass market appeal. But where would California be, if it weren't for characters like you. You add a touch of spice to our varietal mix. We hope to catch your next show at DeRose Vineyards or Oakville's Casa Nuestra.

Appellations Growing Cabernet Pfeffer | Gros Verdot Grapes
Appellations producing the most Cabernet Pfeffer | Gros Verdot wines:
Cabernet Pfeffer | Gros Verdot Grape Details
Cabernet Pfeffer (aka. Gros Verdot)

This little known cross of Cabernet Sauvignon and an unknown grape variety was developed in the later part of the 19th century in California. However, despite Cabernet Pfeffer's long history in the state, no significant acreage has ever been devoted to Cabernet Pfeffer in California or the rest of North America. A scant few acres of Cabernet Pfeffer is planted in San Benito County's Cienega Valley AVA by DeRose Vineyards. The winery utilizes the grape as part of the blend for their wine known as Hollywood Red. A second winery, Casa Nuestra, in the Napa Valley also utilizes the grape in their Old Vines Tinto Classico – a red wine made from a mixed bag of grapes. On the odd occasion, the grape has been used to create a varietal wine, reported to offer a rich peppery and spicy character.