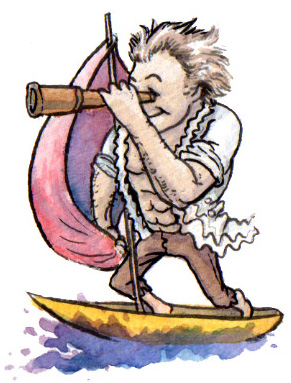 Fer
Oh Fer, My Fer…reminiscent of Walt Whitman's "Oh, Captain, My Captain." You are called the "Iron Man" of France, but are more like a sailor seeking a port. How cruel the French have been, banishing you from your rightful place as a knightly nobleman of the noble clan. They call you an unknown bastard, forcing you into the dreaded life as one of the blended. DNA testing is inconclusive and at best, a distant cousin of Cab Franc with a purplish, tannic nature and a strong body gained from hoisting your sails billowed with hints of smoky black pepper. Will your presence in SoCal follow the course of reigning King, Cabernet, who gleams sweeter and less acidic with golden sunshine and time? But alas, your countrymen warn that your dark waters should be traversed within 3-4 years of harvest, denying you your palatable place amongst kings.

Varietal Character by Leah Canon

Appellations Growing Fer Grapes
Appellations producing the most Fer wines:
Fer (aka. Fer Noir, Fer-Servadou, Pinenc)

The name "Fer" is derived from the French word for Iron, and is a reference to the unusually hard wood of this cultivar that is a challenge to prune for growers in Southwest France.

It should come as no surprise that the rather obscure Fer grape variety has virtually no acreage in North America outside of Chrysalis Vineyards' limited plantings in northern Virginia. Even in its southwestern French homeland this cultivar's use is diminishing as it loses acreage to more mainstream grapes such as Cabernet Sauvignon and Cabernet Franc, which are "allowed varieties" in most of the appellations where Fer is grown.

Fer's waning popularity should not be perceived as any lack of quality. Traditionally the grape has been used to great effect in appellations like France's Madiran A.O.C where it adds color and dark fruit character and softens the beast-like tannic nature of the rather rustic Tannat grape. While the cultivar is a recommended variety for Virginia's ecology, only time will tell if Chrysalis or others can build a market for this interesting and overlooked grape variety.