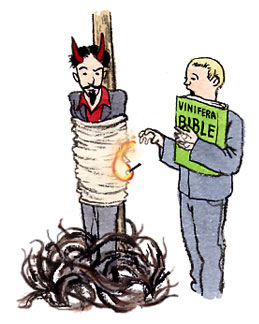 Verdelet
Mr. Verdelet you have a curiously demonic sounding name. One may wonder if your flight from Canada was the result of vinous persecution by over zealous Vinifera fanatics or was it simply a case of an unmarketable name. Truth be told, you have never been comfortable in the cold weather above the 45th parallel. Perhaps, you will be more accustomed to the more temperate conditions of the southern states.

Appellations Growing Verdelet Grapes
Appellations producing the most Verdelet wines:
Verdelet (aka. Seibel 9110)

A white French-America hybrid cultivar mostly grown in the New York State's Finger Lakes Region, Ontario's Niagara Peninsula, and British Columbia's Okanagan Valley. The variety's limited use today stems from its cold hardiness being less reliable than other suitable hybrids, and from the widespread shift to V. vinifera varieties, particularly in British Columbia where it once was one of the staple varieties for that province's wine industry.