Crown Valley Winery: winery information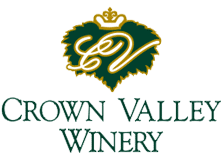 Winemaker: Daniel Alcorso
Crown Valley Winery is happy to introduce their new winemaker, Daniel Alcorso. Daniel has an impressive background in winemaking and has lived in various wine regions around the world. Bryan Siddle operations manager says "Crown Valley Winery is very excited to have someone of Daniel's caliber to bring our wine and winery to the next level. Crown Valley Winery has always been committed to producing high quality Missouri wines using the best grapes. Daniel is a new-world winemaker who will bring out the specific aromas and fruit flavors of each of the varietals, which the consumer will be able to enjoy for many years."

Daniel was born in Sydney, Australia and moved to Tasmania where his grandfather had planted a small vineyard on the banks of the Derwent River in the 1950s. What started out as a hobby to make wine for family and friends grew over time into a cluster of vineyards and a small 150-ton winery – Moorilla Estate (Aboriginal for "a rock by the water") was born. It was here, immersed in the myriad of operations that go into establishing vineyards, growing grapes and making wine, that Daniel developed a passion for the wine industry.

Daniel spent much of his youth working in a small winery and graduated with a science degree in Oenology from the University of Adelaide. He worked for Lindemans in the Hunter Valley (north of Sydney) and also for Wynn's in the Coonawarra region of South Australia during summer vacations.

In 1996 he moved to New Zealand where he worked for a large (by New Zealand standards) 10,000-ton winery specializing in the production of aromatic whites and Bordeaux red varieties. He was promoted to the position of Winemaker/Winery Manager, where he stayed until mid-2000.

Having spent much of his time in the Southern Hemisphere, he took the opportunity to work for Kendall Jackson in California in August 2000. This was where he first became interested in the American wine industry. But an opportunity arose for him back in Australia where he spent the last two vintages. He worked for Orlando Wyndham, the makers of Jacobs Creek, and lastly for Casella Wines, the home of Yellowtail. He has since returned to the United States to establish himself firmly in the industry. We are honored to have him at Crown Valley Winery.

Daniel's philosophy on winemaking is, "I tend to adopt winemaking practices that promote the natural fruit flavors of the vineyard and the region in which they are grown. I then complement this fruit backbone with winemaking artifacts such as barrel maturation, lees contact, malolactic fermentation and the use of different yeast strains. This allows people with varying degrees of wine knowledge to take more or less out of their tasting experience, and as their knowledge increases, so will their enjoyment and understanding of our wines.