Hillside Estate Winery: winery information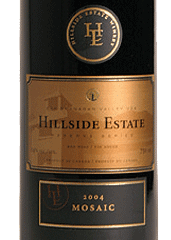 Winemaker: Kelly Symonds, B.Sc. (Oen)
Kelly joined Hillside Estate Winery in February of 2003 after graduating from the University of Adelaide's Waite (Roseworthy) program with a Bachelor of Science in Oenology.

Although Kelly grew up in Abbotsford, she developed an avid interest in wine by observing and participating in the wine industry in Naramata where she spent her summers. Upon spending four years immersed in wine in Australia she returned to her roots in the Okanagan to continue her career.

Kelly has been making Hillside's wines for the past 5 years and is a passionate supporter of the Okanagan wine industry.
Annual Production: 12,000 cases