John Tyler Wines / Bacigalupi Vineyards: winery information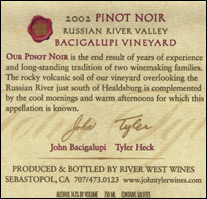 Winemaker: Tyler Heck
A fourth-generation winemaker, Tyler Heck has developed many skills and a deep understanding of the wine industry. He gained this knowledge early in his life from his father and mentor, Patrick. Tyler's studies of enology, viticulture, and Ag business at both Fresno State University and Cal Poly San Luis Obispo have given him additional breadth and structure to the foundation gained at his father's side. Both during and after Tyler's graduation he was able to participate in industry internships and actual work experience at numerous diverse Californian and Australian winery and vineyard sites. Tyler's formal education has been complemented by his father Patrick, who exposed him directly to the wine industries of California, the Pacific Northwest, Australia and Europe.

Tyler and his father developed a unique and personalized work profile, which has allowed him to acquire a broad knowledge of the wine industry and its practices, both locally and globally. Tyler's experience has been diverse and extensive, ranging from large-scale corporate production to mid-sized partnerships to small-scale, family-owned boutique wineries. These facilities have been located in both Sonoma and Napa counties as well as several wine regions of Australia.
Annual Production: 1,200 cases
Futures
Futures are only available for our Kiss of the Wolf Wine Club members. Vintages of the 2005/2006/2007 Russian River Pinot and 2005/2006/2007 Zinfandel are available. Log onto our website to join the wine club and send us an email of your futures request.
Estate Vineyard Acreage
John and his family have slowly and meticulously expanded the Bacigalupi vineyard to its existing 125 acres of premium grapes. The vineyards are most widely known for having supplied the Chardonnay fruit to Chateau Montelena that won the Paris tasting in 1976.

The Bacigalupi Pinot Noir and Zinfandel grapes are grown in soils, varying from rocky red clays to well-drained rocky volcanic loams. There is a small acreage beside the Russian River, but the majority of the vineyards are planted in the rolling hills to the west. The combination of the soil structure and the hillsides provide for optimal growing conditions. Six distinct Pinot Noir clones are grown on approximately 50 acres. The remaining acreage is planted with Zinfandel, Petite Syrah, Cabernet Sauvignon, and Chardonnay.
Grape Varieties Planted