Kendric Vineyards: winery information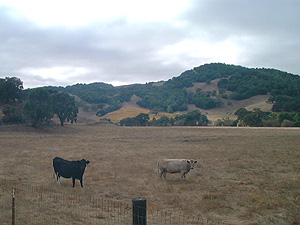 Winemaker: Stewart Johnson
Stew comes to winemaking through the vineyard. He grew up in Amador County and, during breaks from various academic pursuits (Cal, Yale and Hastings), worked in orchards and vineyards in the Shenandoah Valley and planted four acres of Sangiovese on his parents' property there. He worked crushes in the cellars at both Sebastiani Winery and Alexander Valley Vineyards. In between crush stints, he worked at a wine shop in San Francisco where he had a chance to taste widely and to become smitten with Pinot Noir and Syrah. During this time he also took many viticulture and enology classes at Santa Rosa JC, Napa Valley College and UC Davis Extension.

The search for plantable vineyard land in Marin, prepping a two acre Syrah addition to his parents' vineyard and a string of garage vintages commenced in 2000. In 2001, Kendric Vineyards was established, a long-term lease on 100 plantable acres in Marin was finalized, the Pinot Noir vineyard was prepped, and the Syrah block was planted. In 2002, the Pinot Noir was planted. In 2003, the Syrah planting yielded its first harvest, and Stew moved out of the garage and into Starry Night Winery in Novato (a year too early as it turned out, as this vintage was never released). 2004 was the first small vintage for the Pinot Noir vineyard. Because Kendric Vineyards is still a very small producer, Stew is able to handle both vineyard and winery operations himself.
Annual Production: 575 cases
Estate Vineyard Acreage
- Reward Ranch Vineyard in the Shenandoah Valley is four acres of Sangiovese (which goes to Vino Noceto) and two acres of Syrah.
- Kendric Vineyard in Marin is eight and a half acres of Pinot Noir.
Grape Varieties Planted