Lakeview Cellars Estate Winery: winery information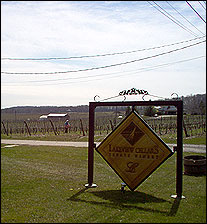 Winemaker: Tom Green
Tom Green is part of a young crop of local winemakers emerging to meet the demands of the Niagara Region's growing grape and wine industry. Born in South Africa, Green moved to Canada with his family at the age of 14.

His interest in winemaking began when his parents purchased a 50-acre retirement vineyard in Beamsville, Ontario while he was pursuing a degree in chemistry at the University of Western Ontario. Green would come home on weekends to work on the farm and began to develop a passion for viticulture. He recalls the rush he felt when the first crop of concord grapes was produced. To this day he says that seeing fruit on the vine is still one of his favourite parts of the winemaking process. Upon graduation, Tom found himself wondering what he was going to do next. His parents, who recognized his keen interest in the family's grape farm, took the liberty of enrolling Tom in Brock University's Cool Climate Oenology and Viticulture program – an initiative that Tom is grateful for to this day. Green was part of the program's second-ever graduating class with only 7 other students. Today, this program is recognized internationally and is regarded as one of the best in Canada.

Green's co-op with the Viticulture program was at Lakeview Cellars Estate Winery in Vineland, where he apprenticed with founder, Eddy Gurinskas. When Gurinskas took retirement, Green was appointed winemaking duties for Lakeview Cellars and its sister winery, Birchwood Estate Wines. In May 2005, Lakeview Cellars and Birchwood Estates merged with EastDell Estates and Thomas & Vaughan wineries and Green was promoted to Head Winemaker for the four wineries.

Green also serves as Chair of the Technical Committee for the Sustainable Winemaking Program of Ontario, and is dedicated to the idea of regulating and managing the sustainability of the Niagara Region's rapidly growing wine industry. He strives to find a balance between innovation and tradition in the winemaking process and prides himself on the idea of embracing change as the industry continues to evolve.

Green lives in Beamsville with his wife Melanie and 2 year-old daughter Marin.
Annual Production: 20,000 cases