McHenry Vineyard: winery information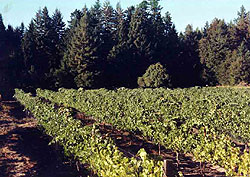 Winemaker: Henry M. McHenry
Our winemaker is a professor at the University of California, Davis. He has made wine from our Estate grapes since 1975 and is pleased by the enthusiastic reception including numerous gold medals at commercial wine judging competitions.
Annual Production: 350 cases
Estate Vineyard Acreage
Our two acre Pinot Noir vineyard lies on a west facing sandy hill side overlooking the Pacific Ocean at 1800 feet elevation.
Grape Varieties Planted