Miller Wine Works: winery information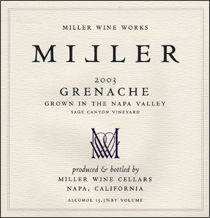 Winemaker: Gary P. Miller
As a winemaker, it is my intent to make balanced, nuanced wines that speak clearly of their locations, and have affinity for carefully raised and prepared food.
Estate Vineyard Acreage
Brookside Vineyard is a 3-acre ranch, located between the Carneros and Mt. Veeder appellations. The vineyard features cool morning and evening maritime influences, coupled with moderate daytime temperatures. Soil types are alluvial and sandy clay.
---
Castle Rock Vineyard is 35.6 acres of mountainside vineyards located in the Mt. Veeder appellation. It is farmed by viticulturist Agustin Salinas on elevations from 1,000 to 1,300 feet. The vineyard is slightly cooler than the Napa Valley floor, but is usually above the fog line, so it receives more total sunlight hours. Soils are light sandy to heavy clay loams.
---
Sage Canyon Vineyard is 60 acres, located in Napa Valley on a steep mountain ranch with elevations from 900 to 1,400 feet. Early morning summer time fog make this vineyard an ideal wine grape growing area. Soils are a combination that includes Berressa dibble, Los Gatos loam and Millsholm loam.

Grape Varieties Planted