Minassian-Young Vineyards: winery information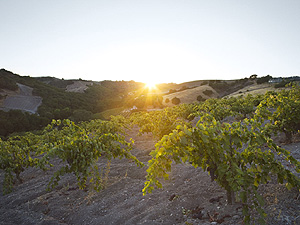 Winemaker: David Young
Winemaker David Young was raised in San Diego, CA, and knew early on from his experience on his family's apple orchard that he wanted to pursue a career in agriculture. After working at wineries in northern California David decided to attend Cal Poly San Luis Obispo to study viticulture. During and after college he worked at several Central Coast wineries before starting Minassian-Young Vineyards.

David's experience in the winemaking and grape-growing industries helped to define his personal beliefs with regard to growing practices. He prefers to "let vintage and vineyard speak" and focuses on sustainable growing techniques and old world winemaking. Minassian-Young's twelve acres of 28-year-old dry-farmed, head-trained Zinfandel reflect this philosophy. He is also excited about the Rhone varietals which flourish in Paso Robles and has planted a two acre field blend of Syrah, Mourvedre and Counoise, which will be ready to harvest this year.
Annual Production: 2,800 cases
Estate Vineyard Acreage
On the estate is a 28-year-old dry farmed Zinfandel vineyard with new plantings of Syrah and Counoise grapes that will be harvested for the first time in 2008. The Zinfandel grapes reflect the strong heritage that the west side of Paso Robles is known for, and the new plantings are typical of Rhône varietal grapes that are coming of age in our area. Both our vineyards and wines are managed with quality and sustainability in mind. All the grapes used in our wines are either estate grown or carefully selected from other estates and sought-after vineyards.
Grape Varieties Planted