Olympic Cellars: winery information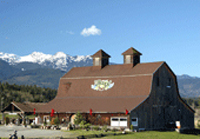 Winemaker: Benoit Murat
Benoit became interested in making wine while helping with the 1996/1997 harvest in Saint-Emilion, a medieval town in the Bordeaux region of France. His experience in the vineyards – pulling and trellising vines, racking tanks and barrels and bottling – motivated him to enroll at La Tour Blanche School of Viticulture and Enology, located south of Bordeaux in the heart of the Sauternes Appellation. He apprenticed for two years while taking classes, and gained experience in all aspects of vineyard and cellar operations. In June 1999 he earned an undergraduate diploma in viticulture and enology, and became employed as winemaker at Chateau La Fleur Cravignac in Saint Emilion for the 1999 vintage.

After completing an additional apprenticeship in marketing and estate management and working for two cooperative wineries in France, Benoit came to Washington State and ultimately Olympic Cellars, intrigued by what he'd heard about Washington's perfect climate for growing grapes.

Hitting the cellar running, he initiated a review of each aspect of Olympic Cellars' production from grape contracts to equipment to cooperage. Improvements were initiated with the 2004 harvest and are ongoing. These changes coupled with Benoit's talent and winemaking style, a mélange of French and American winemaking techniques, ripe fruit and balanced tannins, have done the winery proud.

Benoit's first "grape to bottle wine", Olympic Cellars' 2004 Dungeness Red Lemberger, (his first experience with this grape variety) received the prestigious Jefferson Cup Award at the 2005 Jefferson Cup Invitational, a competition honoring the "best of the best" among U.S. wineries from all of America's wine regions. His 2004 Rosé Lemberger, a.k.a. Rosé the Riveter under the Working Girl® label, has also won multiple gold medals.
Annual Production: 14,000 cases