Pahrump Valley Winery: winery information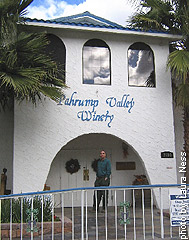 Winemaker: Bill & Gretchen Loken
In January 2003 we took control of the ailing winery and began the long and very much needed process of completely upgrading and renovating the entire property. We installed a brand new, fully functional wine production cellar including new stainless steel fermentation tanks, bottling line, grape crushing and pressing equipment, refrigeration and cooling system, new oak barrel room for aging wine, all new tasting room and expansion, guest lounge, substantial new vineyard plantings and upgraded the landscaped grounds. This complete and total renovation of the winery also included a new state of the art kitchen and complete remodel for our restaurant, Symphony's. Fast forward to 2005 when we harvested the first one and a half tons of Zinfandel grapes from our estate vineyard. This resulted in the 2008 release of Nevada's first ever commercial red wine, our 2005 Zinfandel. The wine was a medium bodied red wine with hints of cherry and cola. What is more surprising is that Nevada's first red wine won "Gold" at the Pacific Rim International Wine Competition, making it Nevada's first Gold for a home grown wine. We also released the state's first commercial "inter-specific" or hybrid wine in 2009, our award-winning 2008 Frontenac from Yerington. Now we like to say, we are "Bringing Gold to the Silver State". We have been working for nearly a decade with various start up growers to help shape Nevada's grape growing industry. Not surprisingly, this has been meet with many challenges and the results have been mixed at times. However, we are now making great strides with several Nevada vineyards located in Pahrump Valley, Armargosa, Crystal Heights and Yerington. We harvest from over 13 acres of Nevada grapevines spread over 4 vineyards. We estimate our Nevada grown harvest for 2012 to exceed 35 tons of grapes. There are currently another 25 acres of plantings in the planning stages.
Annual Production: 3,000 cases
Estate Vineyard Acreage
This estate vineyard is located here at our winery and consists of Zinfandel and Syrah. Planted in the early 1990's, this Zinfandel vineyard is also Nevada's oldest commercially producing red grape vineyard.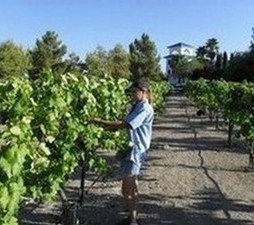 This vineyard produced the state of Nevada's first commercial red wine in state history when it was harvested in 2005. You can imagine how delighted we were when these first 100 cases of Zinfandel, released in 2008, won 7 National Wine Awards, including a Gold! The 2006 vintage followed with another award winning year. It's easy to see that southern Nevada is becoming "Zinfandel" territory.
A major expansion of the vineyard in 2009 added Syrah and more Zinfandel. These vines began producing in very small amounts in 2011 and will develop further over the next few years. All the new vines are planted on drought resistant root stock and placed on a (VSP) vertical shoot position trellis system.
Grape Varieties Planted