Spring Mountain Vineyard: winery information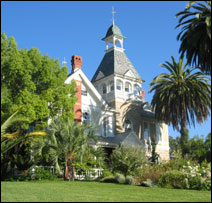 Winemaker: Jac Cole
After graduating from the University of California Berkeley with a degree in Biology in 1972, Jac followed his growing passion for winemaking to the Masters Program in Enology at California State University Fresno. Jac began his professional odyssey as an intern at Chateau St. Jean in Sonoma County, and from there, wound his way through Napa Valley gathering expertise and experience with such prestigious wineries as Stag's Leap Wine Cellars, Stags' Leap Winery, and S. Anderson Vineyards.

Jac has had the rare fortune of acquiring a remarkable depth of knowledge and experience along his winemaking path, as well as his valued friendship with Spring Mountain Vineyard manager, Ron Rosenbrand. Together they are dedicated to the concept that the world's greatest wines are the direct result of the work done in the vineyard. Their focus has been on the nuance of clone and rootstock, the balance of canopy and fruit, and the determination of the point of perfection for harvest. Armed with a combination of gleaned experience, passion and friendship, Jac comes to Spring Mountain Vineyard to lift wine quality to even greater heights.

Jac lives on a picturesque two-acre vineyard on Howell Mountain with his wife, Ami.
Annual Production: 10,000 cases
Estate Vineyard Acreage
225 acres